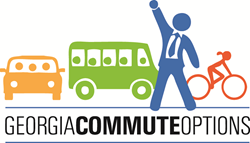 Atlanta, GA (PRWEB) October 28, 2015
Georgia Commute Options is boosting its incentive offer to metro Atlanta commuters — when they say "Gimme Five" and start using a clean commute alternative.
Building on the success of its commute incentive programs, Georgia Commute Options is launching the Gimme Five promotion to sweeten the deal. Officially starting November 1, this promotion offers a $5 a day incentive to commuters who switch from driving alone to taking an alternative commute (or "clean commute"): carpooling, vanpooling, taking transit, teleworking, walking or biking to work.
Commuters who enter the Gimme Five program can earn up to $150 within a 90-day participation period. The Gimme Five promotion is a temporary increase of the existing Georgia Commute Options daily incentive (since 2009, the daily incentive has been set at $3 a day, up to $100). This dollar boost is targeted at enticing more commuters to try clean commuting on a regular basis.
"Commuters from all over metro Atlanta are taking advantage of our incentive programs, but many people are just on the verge of giving clean commuting a try," says Phil Peevy, Georgia DOT's Air Quality and Resource Branch Chief. "A slight bump in the incentive amount for this already-successful program could be just what many commuters need to finally discover the many benefits of choosing an alternative to driving alone to work."
Georgia Commute Options' current stats support the idea that commuters, once enrolled, commit to alternative commuting in the long term:

85% of commuters continue their use of alternative modes 6-24 months after completing their incentive program
Program graduates average 3.38 alternative commute days a week
The number-one factor cited for using alternative modes was saving money
More than 23,000 commuters have participated in these commute incentives programs since 2000
In order to qualify for the Gimme Five promotion, commuters must be new to clean commuting and apply on or after November 1, 2015 at GaCommuteOptions.com.
About Georgia Commute Options
Georgia Commute Options, a program funded by the Georgia Department of Transportation, helps commuters, employers and property managers take advantage of alternatives to driving alone to and from work. Georgia Commute Options reports that every day in metro Atlanta, the use of commute alternatives such as carpooling and transit results in 1.1 million vehicle miles not traveled and 550 tons of pollution kept out of the air. For more information, visit http://www.GaCommuteOptions.com.
# # #