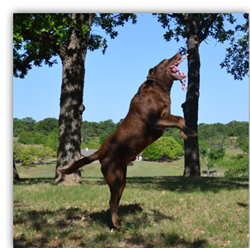 He is able to get up and down without discomfort, can easily play fetch and is back to chasing Hank
Wylie, TX (PRWEB) November 02, 2015
Dr. Myers has been certified in Regenerative Cell Therapy since 2011, using adult derived stem cells to treat patients at his previous clinic. One of those patients being Hunter, a 6 year old Labrador Retriever suffering from severe osteoarthritis in his hips and knees. Hunter's owner's said he had difficulty getting up from a lying position and joint supplements and anti-inflammatories only made some of the pain and discomfort better. After stem cell treatment "He is able to get up and down without discomfort, can easily play fetch and is back to chasing Hank," says Hunter's owner. It's been over two years since Hunter received stem cell therapy and he is doing well.
Stem cells are regenerative cells that can differentiate into many tissue types as well as being able to reduce pain and inflammation thus helping to restore range of motion and stimulate regeneration of tendon, ligament and joint tissues (http://www.vetstem.com/science.php). In a study using VetStem Regenerative Cell Therapy on dogs with osteoarthritis of the hip joint it was found that regenerative cell therapy (adipose-derived stem cells) decreases patient discomfort and increases patient functional ability.
Once a patient is identified as a good candidate for stem cell therapy the procedure begins with a fatty tissue collection from the patient. The tissue sample is sent overnight to VetStem's lab in California for processing. Once processed, the stem cells are quality checked and then injectable doses of the patient's stem cells are sent overnight, back to Parker Road Veterinary Hospital. Within 48hrs of collecting a fat sample from a patient Dr. Myers is able to inject stem cells into (arthritic or injured) affected areas and healing can begin.
About VetStem Biopharma
VetStem Biopharma is a veterinarian lead company that was formed in 2002 to bring regenerative medicine to the profession. This privately held biopharmaceutical enterprise, based near San Diego (California), currently offers veterinarians an autologous stem cell processing service (from patients' own fat tissue) among other regenerative modalities. With a unique expertise acquired over the past 12 years and 11,000 patients treated by veterinarians for joint, tendon or ligament issues, VetStem has made regenerative medicine applications a therapeutic reality beyond the realm of research. The VetStem team is focused on developing new clinically practical and affordable veterinary solutions that leverage the natural restorative abilities present in all living creatures. The company's stated mission being "to extend and enhance the lives of animals by improving the quality of recovery in acute conditions, but also by unlocking ways to slow, stop and ultimately revert the course of chronic diseases". In addition to its' own portfolio of patents, Vet-Stem holds exclusive global veterinary licenses to a portfolio of over 55 issued patents in the field of regenerative medicine.
About Parker Road Veterinary Hospital
Parker Road Veterinary Hospital has been treating and caring for dogs, cats and horses for 31 years. Their mission is to provide the best veterinary medicine through diagnostics, surgery and animal health care services. The facility includes: five animal examination rooms, in-house laboratory, digital radiograph, ultrasound and endoscope, a federally accredited coggins testing laboratory, pharmacy, two small animal surgical suites, an equine recovery room & equine stocks as well as two ambulatory trucks that are fully equipped for equine emergency and routine farm calls. In addition to Dr. Greg Myers, Parker Road Veterinary Hospital has three other full time Veterinarians, Dr. Charles Kerin, Dr. Brad Abraham and Dr. Timothy Wallis who are committed to helping your pets live long and healthy lives.
CONTACT INFORMATION
Parker Road Veterinary Hospital
Dr. Greg Myers
972-442-6523
VetStem Biopharma, Inc
Kristi Hauta
Marketing Operation Manager
858-748-2004 Ext. 208
khauta(at)vetstem(dot)com