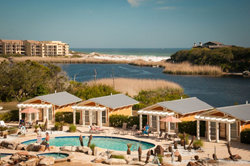 "We know this property is very special and important to the coastal ecology of the region," said Captain Bob Sellers
SANTA ROSA BEACH, Fla. (PRWEB) October 29, 2015
As part of the Newman-Dailey Resort Properties 30th Anniversary Celebration at Sanctuary at Redfish in Blue Mountain Beach, a silent auction was held, raising more than $1,500 for the Choctawhatchee Basin Alliance (CBA) and its programs.
The resort overlooks, Big Redfish Lake, one of South Walton's 16 rare coastal dune lakes. The lakes are unique due to their connection with the Gulf of Mexico. The lakes are often closed off from the Gulf, and at times they open, changing the salinity of the lake. Similar lakes are reportedly only found in remote locations around the globe, including along the coasts of New Zealand, Australia, Madagascar, and a couple of locations in the U.S. The resort team works closely with the CBA who monitors the coastal dune lakes, documenting their changing patterns and collecting water samples.
"We know this property is very special and important to the coastal ecology of the region," said Captain Bob Sellers, who runs the pontoon boat at Sanctuary at Redfish. "Therefore, we do everything we can to protect and maintain our natural surroundings. This fundraising event was another extension of our efforts to help protect, preserve and provide education about these lakes."
The silent auction, which raised more than $1,500, will benefit the Choctawhatchee Basin Alliance and Dunes In Schools program. The Dunes In Schools program educates middle school students about the rare dune lakes and barrier island ecosystems that exist in South Walton's coastal environment. Students are provided materials and supplies needed to grow sea oats in the classroom. The curriculum then builds knowledge of the dynamic coastal dune lake systems and how sea oats play an important role in their sustainability. At the completion of the program, students take their mature sea oats to be planted at a dune lake restoration site.
"A big part of our effort is education," said Captain Bob. "We educate guests on the fragile dune system and explain why walking on the dunes is not permitted. We are proud to support the CBA in educating our local students."
Sanctuary at Redfish Resort sits on 14 pristine acres and provides guests access to the dune lake and use of complimentary kayaks. Sanctuary at Redfish also provides guests a long list of first class amenities, including an expansive pool deck with three separate pools, two Jacuzzis, a large fire pit, two outside grills, and private pool cabanas. The 64-unit resort also features two- and three-bedroom condominiums that overlook the pools as well as the lake. During season (March – October), a pontoon boat takes guests on a scenic five-minute ride through the lake to the beach.
Guests of Newman-Dailey also receive a gift card good toward bike rentals and free movie rentals as well as seasonal beach service (March – October). To learn more about the resort as well as available vacation rentals at Sanctuary at Redfish, visit http://www.SouthWaltonVacation.com.
###
About Newman-Dailey Resort Properties, Inc.
Newman-Dailey Resort Properties is a premier vacation rental, real estate sales and association management company located in Miramar Beach, Fla. Founded in 1985, Newman-Dailey is celebrating 30 years of welcoming guests to the beaches of South Walton and Destin, Fla. Recognized for excellence, integrity and professionalism, Newman-Dailey consistently receives the "Certificate of Excellence" for positive reviews on TripAdvisor and earned the BBB's 2015 Torch Award for Marketplace Ethics. The Real Estate Division is consistently listed among the top 10 percent of real estate companies along the Emerald Coast for sales. For more sales or rental information, call 850.837.1071, or visit online at DestinSales.com or DestinVacation.com.