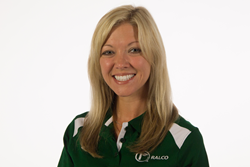 I have had the opportunity to study a wide variety of animals including livestock, poultry, companion animals, and an array of aquatic animals. This diversity is critical to my role at Ralco
Marshall, MN (PRWEB) October 30, 2015
Ralco announced today that Jessica Fox, DVM has been appointed Corporate Technology Manager. Dr. Fox will oversee the advancement and market opportunities for Ralco's patented technologies and intellectual property in the poultry, livestock and aquaculture industries.
Dr. Fox holds a Bachelor of Science degree in Biomedical Science and a Doctor of Veterinary Medicine from the University of Minnesota. She was also 1 of 30 candidates chosen for Cornell University's AQUAVET® I, and 1 of 6 candidates chosen for AQUAVET® III, two highly competitive programs that receive applications from veterinarians and veterinary students all over the world.
"It has been my lifelong dream to become a veterinarian. My parents tolerated me sneaking animals into the house to care for throughout my childhood. Veterinary Medicine is what I have always felt called to do. "Dr. Fox explained. "I am excited to join our expert technical team and the Ralco family as a whole. I have had the opportunity to study a wide variety of animals including livestock, poultry, companion animals, and an array of aquatic animals. This diversity is critical to my role at Ralco."
Dr. Fox will focus on Ralco's corporate technologies and look for new ways to leverage and expand the technologies that have made Ralco an industry leader in agronomy, aquaculture, animal health and animal nutrition products for more than 40 years. Her unique experience and strong technical background will promote Ralco's proprietary technologies and support the various technical teams at Ralco.
"It's important for us to implement our technologies to their full potential in all industries related to healthy and affordable food," explained Ralco Vice President Brian Knochenmus "We look to Dr. Fox to be very successful in this position because of her wide range of technical expertise that spans across all species we currently serve including aquaculture in our newest division, trū Shrimp™ Systems."
Ralco is a third-generation family owned multinational company with distribution in more than 30 countries. A leading global provider of livestock nutrition, animal health products and crop enhancement products; Ralco supports large segments of the livestock, poultry, aquaculture and crop industries.
For more information about Ralco contact:
Ryan Wendland
330 3rd Street
Balaton, MN 56115
(507) 337-6819
ryan.wendland(at)ralconutrition(dot)com