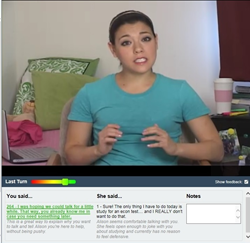 This product will allow me to make better decisions while interacting with residents now that I know and understand different ways to approach different circumstances.
Columbia, Maryland (PRWEB) October 29, 2015
It's no secret that drinking is a problem on college campuses, and the statistics have been mostly steady over three decades. When questioned, almost half of students report binge drinking at least once in the past month. Around a third of students score high enough on the Alcohol Use Disorders Identification Test to indicate they're at risk of future harm.
Every year, select students at thousands of colleges and universities become new resident assistants, commonly known as RAs, who are on the front line confronting the problem. To be effective, a RA has to learn how to do a difficult job, sometimes in awkward circumstances. It is rare for a new RA to receive extensive, realistic role-playing experience before having actual student interactions. SIMmersion, the Columbia, Maryland based simulation developer, is going to change that.
SIMmersion has designed the College Alcohol Intervention Training Suite for RAs and other student affairs staff who are in a unique position to influence and support changes in student behavior. With funding from the National Institute on Alcohol Abuse and Alcoholism (grant #R44 AA022265), SIMmersion collaborated with Dr. Michael Fleming of Northwestern University to develop and study a computer based role-play simulation and e-learning suite. Staff from universities participating in the Chicago College Drinking Research Consortium will help researchers study its effect. Clinical trials getting under way now will explore how SIMmersion's product helps RAs assess drinking behavior and provide appropriate assistance to students.
The College Alcohol Intervention Training Suite presents three role-play scenarios where learners have a simulated conversation with virtual students portrayed by human actors. One is a conversation about alcohol-related issues in a friendly dorm visit. Another confronts a student during a drinking incident. The third is a follow-up after an incident. There are also three mini-games to help build knowledge about alcohol issues. Using input from leading experts in the field, SIMmersion designed these components to capture the imaginations of RAs, helping them to internalize the information and become more effective in dealing with alcohol-related issues.
Early testing results appear promising. SIMmersion recently beta tested the product with experienced RAs, one of whom described the virtual conversations as "thought provoking." When asked to compare it to other training they received, one RA said it was "better and more realistic," and another said, "The virtual training allows more tries and a larger room for error and correction." When asked how SIMmersion's product will "change how you do your job," one RA said, "This product will allow me to make better decisions while interacting with residents now that I know and understand different ways to approach different circumstances."
With beta testing complete, the clinical trials are beginning. 120 students in the Chicago area will participate in the study. To measure a baseline, all will interact with a "standardized patient," a professionally trained role-player who will simulate a college student with a particular background. Afterward, 80 will use SIMmersion's College Alcohol Intervention Training Suite while 40 will not. Six months later, the students will receive another assessment and researchers will study the results.
"After the strong response from beta testing, we're enthusiastic about the suite's potential to support RAs in the field," says Ben Allen-Kingsland, Business Development Director for Health & Corporate Programs at SIMmersion. Pilot programs at early adopter institutions nationwide will go beyond the limits of the randomized controlled trial in Chicago. "The more institutions that participate at this stage," explains Allen-Kingsland, "the better the tool will be at helping colleges curb student drinking in an innovative way."
SIMmersion is looking forward to helping colleges combat this ongoing problem with a proven effective tool.
About SIMmersion
SIMmersion's mission is to train skills faster and more effectively by combining the world's most realistic simulated experiences with highly interactive training content and extensive user feedback. For more information, contact SIMmersion online or at 443-283-2555.