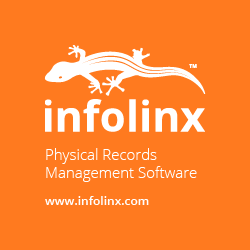 Kensington, MD (PRWEB) November 03, 2015
Today, Infolinx System Solutions™, a leading provider of enterprise physical records management software, announced the implementation of Infolinx WEB 3.4 at a water resource recovery service organization in California. The water resource recovery services consist of secondary treatment of wastewater, recycled water production and distribution, pollution prevention, energy recovery, beneficial reuse of bio-solids, street sweeping, and household hazardous waste collection.
"Infolinx worked diligently with us to develop the ideal solution for our client, merging both physical and electronic records management systems in a seamless way," said James Green, Chief Operating Officer, ECS Imaging, Inc.
Providing an industry leading feature-set within a true thin-client, browser-based application, the solution manages tens of thousands of files and boxes governed by almost fifteen hundred disposition rules. In addition to an integration with Laserfiche enterprise content management software, configured and installed by Infolinx reseller ECS Imaging, the on-premises installation also provides seamless color-coded label printing and assisted self-check-out functionality.
About Infolinx®
Infolinx System Solutions is a leading provider of DoD5015.2-certified enterprise physical records management software. Full life-cycle records management for archives, records centers, and file rooms includes integrated Enterprise Content Management, third-party warehouse integration, robust searching, online requesting, complete audit history, location reconciliation, supply item ordering, retention schedule and legal holds management, integrated RFID technology, space management with charge-back functionality, extensive reporting capability, advanced security configuration, workflow email notifications, and legacy data sharing. Available as an on-premises or cloud-based solution, Infolinx maintains clients within all major business segments and the public sector." Infolinx System Solutions Demo.