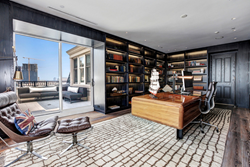 "This is a rare opportunity to acquire a property of this magnitude in terms of space and importance.
Washington, DC (PRWEB) October 28, 2015
Washington, DC (October 30, 2015) – TTR Sotheby's International Realty confirmed today that it has listed for sale the author Tom Clancy's penthouse residence in the famed Inner Harbor of Baltimore, Maryland. The Penthouse located in The Ritz-Carlton Residences is listed for $12 million. Mark Lowham, Managing Partner of TTR Sotheby's International Realty noted, "We are honored to present this iconic residence to the global market. Each year, only a few properties are offered for sale around the world that reflect the bespoke quality that is captured in every corner of this exquisite penthouse."
Tom Clancy was one of the world's most celebrated authors of our time, having written the popular Jack Ryan series, and numerous best sellers including, Patriot Games (1987), Clear and Present Danger (1989), and The Sum of All Fears (1991). Born in Baltimore, Maryland, Tom Clancy was best known for his detailed narratives of military science and espionage. Clancy began his literary career with his first novel, The Hunt for Red October, in 1984. His novels hit No. 1 on The New York Times' best-seller list ten times and more than 50 million copies have been printed with four of them adapted into major films. As one of three authors to have sold two million copies on a first printing (in the 1990s), the critically acclaimed author won the Alfred Thayer Mahan Award for Literacy Achievement. Clancy also founded Red Storm Entertainment, a multimedia game software company that created games based on his novels.
Mr. and Mrs. Clancy combined four separate penthouses into a singular 12,000 square-foot residence. The mood inside is serene reflecting soft, white hues which naturally draws one's attention to the panoramic harbor and skyline views. The layout of the residence affords a natural series of spaces which flow seamlessly and intentionally from one to the next. The materials and finishes reflect a sumptuous quality on par with the world's finest residences. In addition, an abundance of natural sunlight brings to life the walls creating abstract shadow landscapes throughout the day. In contrast to the white palate found in much of the residence, the study was designed specifically by Mr. Clancy to reflect a darker, more complex environment. Similarly, the private theatre is finished in a dark and well-appointed finish. The intentional asymmetry of these spaces provides the perfect balance to the overall design.
"This is a rare opportunity to acquire a property of this magnitude in terms of space and importance. Designed by and for one of the most iconic authors in recent history, the residence is filled with subtle elements which will surprise and delight its owner much like one of Mr. Clancy's novels," according to listing agent Shawn Breck of TTR Sotheby's International Realty.
The Penthouse consists of five bedrooms including an expansive master suite with two en-suite spa-like bathrooms, two private offices, three private elevators, a private gym, and an in-home theatre. The entire residence boasts unobstructed views of the Inner Harbor, Federal Hill, and Downtown. The residence functions well for large scale entertaining and is ideal for an art collector. For more information, please visit: http://www.penthouseontheharbor.com
Shawn Breck and Tyler Garrison, Vice Presidents of TTR Sotheby's International Realty, and Corey Burr, Senior Vice President, and Laura Bednash, Associate, of TTR Sotheby's International Realty, are exclusively representing the listing.
TTR Sotheby's International Realty is headquarted in historic Georgetown at 1206 30th Street, NW Washington, DC 20007. TTR Sotheby's International Realty is working closely with Baltimore based Monument Sotheby's International Realty to market this property globally. Since 1744, Sotheby's has led the global market in terms of the sale of the world's finest art, precious jewels and important assets. Today, Sotheby's International Realty network currently has more than 17,400 sales associates located in approximately 800 offices in 61 countries and territories worldwide. Property listings from TTR Sotheby's International Realty are presented globally via sir.com as well as on the firm's local website, http://www.ttrsir.com. For additional information, please contact Jeanne Choi, VP of Marketing and Communications. (202) 333-1212 or Jeanne.choi@sir.com