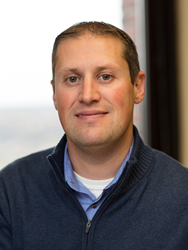 ST. PAUL, MN (PRWEB) October 28, 2015
Gander Mountain, the nation's largest and fastest-growing outdoors retailer, today announced that Derek Siddons, Executive Vice President and Chief Operating Officer, will assume the role of President, effective on the retirement of current president Michael J. Owens, on October 31, 2015.
Siddons has been responsible for the Company's operations, marketing and merchandising functions across all channels of the organization, including retail and direct. Mr. Siddons has been with Gander Mountain since 2009 and held roles of increasing responsibility, including Director of Retail Operations, Vice President E-Commerce, Senior Vice President of Operations and E-Commerce and Executive Vice President- Chief Operating Officer, Operations, Marketing, E-Commerce and Merchandising.
"Derek's commitment to strong processes, driving results through people, and dedication to achieving goals will continue to lead Gander Mountain to success," said David Pratt, Gander Mountain's Chairman and Chief Executive Officer. Regarding his new role Siddons said, "It will be a great privilege to work with our tremendous associates to build on our many successes, continue our growth, and continue to bring our customers the best products, service and value in the outdoor industry across all channels."
"Gander Mountain is a great company with talented and dedicated associates. It has been my honor to play for this winning team and participate in a marvelous growth story these past six years. We have accomplished much and the company's future is bright," said Mr. Owens. During Owens' tenure Gander Mountain increased its industry leading retail network by over 50 new stores, adding over 2.5 million square feet of retail space, and grew its Gander Mountain online business at over 20% per year. "We sincerely thank Mike for his leadership, friendship and many contributions," said Mr. Pratt.
In addition, Gander Mountain announced the promotion of three senior leaders effective October 31, 2015. Jay Tibbets, Senior Vice President, has been promoted to Executive Vice President - Chief Operating Officer with responsibility for merchandising, planning, and supply chain across all channels. Lisa Schmidt, Executive Vice President – Retail Store Design, has been promoted to Executive Vice President – Store Operations, Store Design and Development with responsibility for retail store operations, visual merchandising, and store design. Eric R. Jacobsen, Executive Vice President and General Counsel, has been promoted to Chief Administrative Officer and General Counsel with responsibility for cost center optimization, real estate site selection, financing and leasing, legal and regulatory affairs, and risk management.
The Company also announced the hiring of two new key senior executives. Brian D. Kohlbeck has joined the Company as Senior Vice President and Chief Financial Officer to succeed Robert J. Vold who is retiring in early November. Kohlbeck will be responsible for all aspects of financial and business reporting, financial planning, budgeting and forecasting, audit and treasury, business analysis, and capital allocation, and will play a key role in strategic planning. Kohlbeck joins Gander Mountain from Lands' End where he served as Vice President – Business Finance responsible for overall financial management of that firm's online and retail businesses, playing a key role in the successful spin-off from Sears Holdings. Prior to that, Kohlbeck served 10 years in roles of increasing responsibility in finance at Best Buy, most recently as Senior Finance Director – Best Buy Stores, and prior to that at General Mills, most recently as Senior Finance Manager. He is a Captain – U.S. Air Force.
In addition, Carissa Rollins has been hired as Senior Vice President and Chief Information Officer and will oversee all aspects of the Company's technology and information systems, omni-channel initiatives, cyber-security, and enterprise data and business analytics. Rollins comes from Kohl's Corporation where for the past five years she served in roles of increasing responsibility in the Information Technology department, most recently as Vice President – IT, Enterprise Information Management. Ms. Rollins holds MBA and Bachelor of Science – Management Information Systems degrees from Marquette University.
"We have transformed Gander Mountain over the past six years to become the nation's largest and fastest-growing outdoor retailer. I'm very excited to continue working with this talented team of professionals and our tremendous associates to implement our strategic plans and set the standards in our industry across all channels," said Mr. Pratt.
# # #
About Gander Mountain Company
Gander Mountain Company, headquartered in St. Paul, MN, is the nation's largest and fastest-growing retail network of outdoor specialty stores for hunting, fishing, camping, marine and outdoor lifestyle products and services. Since 1960, Gander Mountain has offered the best selection of outdoor equipment, technical apparel, active casual wear, and footwear featuring national, regional and specialty brands at competitive prices. Focused on a "We Live Outdoors®" culture, Gander Mountain dedicates itself to creating outdoor memories. Gander Mountain has launched a national campaign encouraging responsible firearms ownership – take the Responsibility Pledge at http://www.GanderMountain.com and use the hashtag #responsibilitypledge in social media to raise awareness. Gander Mountain has 163 conveniently-located outdoor lifestyle stores in 27 states. For the nearest store location call 800-282-5993 or visit http://www.GanderMountain.com. Gander Mountain is also the parent company of Overton's (http://www.overtons.com), a leading catalog and Internet based retailer of products for boating and other water sports enthusiasts.