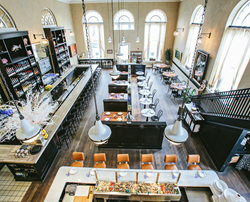 Nearly 30 percent of our acoustical consulting and installation business over the past six months has been for restaurants and event spaces.
CHARLOTTE, N.C. (PRWEB) October 29, 2015
Specialty acoustical contractors, Performance Acoustics, announced the completion of two acoustical projects in Charleston, South Carolina: Indaco and The Cedar Room. The two noise-reduction projects – Indaco on King Street, and The Cedar Room on East Bay Street – required the installation of specialty acoustical wall and ceiling panels to reduce noise levels. The projects took place in conjunction with other major upgrades recently made by architect David Thompson. For each engagement, reverberation time (or time it takes for sound to be absorbed) was reduced by more than 50 percent, optimizing each restaurant for overall ambiance and conversation.
"The Cedar Room is an open and airy space, with historic columns and wood floors – elements from the original structure which dates back to 1880," remarked Cedar Room owner Steve Palmer."While its vintage features make for a stunning venue, they don't absorb noise well. So, we decided to call in the noise-reduction professionals to ensure that our space is not only beautiful, but optimal for conversation and listening to live music," said Palmer.
Performance Acoustics' two completed downtown Charleston projects come on the heels of a recently finished installation of acoustical panels for King Street's The Ordinary which opened in 2012.
"We're seeing an overall upswing in restaurant and hospitality business across the board. In fact, nearly 30 percent of our acoustical consulting and installation business over the past six months has been for restaurants and event spaces," said Steve Floyd, founder of Performance Acoustics. "According to ZAGAT, Americans, on average, eat out 4.5 times per week and restaurateurs are increasingly wanting to improve that overall dining out experience – that's where we come in – to quiet patrons' favorite venues down."
"While business is going strong – 90 restaurants opened in Charleston just last year – acoustics are not what you think of right away when opening your restaurant," said Mike Lata, owner of The Ordinary. "But, once you lose some customers to noise complaints, you want to solve it. We called Performance Acoustics in and now our noise-sensitive patrons have come back."
About Performance Acoustics:
Performance Acoustics provides turnkey acoustical solutions, from consultation and product selection to final installation. The Performance Acoustics team approaches each engagement with a focus on aesthetics, functionality, cost and sound engineering. Specialties include architectural acoustics, commercial and residential soundproofing, and industrial acoustics. To learn more, visit http://www.Performance-Acoustics.com.