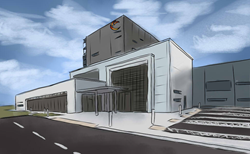 The keys to success is "Service Service Service"
LAS VEGAS, NEVADA (PRWEB) October 29, 2015
Niyato Industries Inc. Is giving the competitors a run for their money – or perhaps a drive, since we're talking about revolutionary advancements in the automotive industry – and offering America "real deal" pricing. That's what Niyato Industries Inc. CEO, Leslie Stencil, aims to do.
Niyato Industries Inc., the world leader in natural gas and propane technology, and is in the planning stages to build-out of the world's most technologically advanced conversion facilities. It is here (possibly first in Kansas, then in Kentucky, to be more specific) that the company will be able to convert fleets of trucks faster, better and more efficiently than any other up-fitter in the country and offer discounts previously unheard of for this industry. The company will also qualify for the GM and Ford Ship-Thru program as well as QVM status…
What's more, this innovative company will soon be going public, and offering the public the opportunity to own a piece of the American dream. Shares are being sold by private placement memorandum.
To take advantage of the 5% discount offered to any fleet operator on any verified fleet quote on the Ford F150 Propane or Natural Gas 5.0 or any other gaseous prep platform, offered by Ford or GM and Isuzu through 2017, please, contact upfit@niyato.com or call a company Representative at 704 945-7155.
###
About Niyato Industries Inc.
The company was founded by Mr. Leslie Stencil through his relentless pursuit in changing the way Americans fuel their vehicles using Natural Gas and Propane as transportation fuel.
Safe Harbor Statement – This release includes forward-looking statements within the meaning of Section 27A of the Securities Act of 1933 and Section 27E of the Securities Act of 1934. Statements contained in this release that are not historical facts may be deemed to be forward-looking statements. Investors are cautioned that forward-looking statements are inherently uncertain. Actual performance and results may differ materially from that projected or suggested herein due to certain risks and uncertainties including, without limitation, ability to obtain financing and regulatory and shareholder approvals for anticipated actions. Such statements are based on management's current expectations and are subject to certain factors, risks and uncertainties that may cause actual results, events and performance to differ materially from those referred to or implied by such statements. In addition, actual or future results may differ materially from those anticipated depending on a variety of factors, including continued maintenance of favorable license arrangements, success of market research identifying new product opportunities, successful introduction of new products, continued product innovation, sales and earnings growth, ability to attract and retain key personnel, and general economic conditions affecting consumer spending. Readers are cautioned not to place undue reliance on these forward-looking statements, which speak only as of the date hereof.
For more information please visit Niyato Industries at http://www.niyato.com.
SOURCE: Niyato Industries
Market Services
James Gaiser, CMO
International: +1 704 945-7155