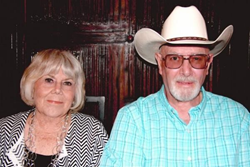 NCP is excited to welcome Charles and Tommye to their ever growing shelf of new authors.
(PRWEB) November 03, 2015
Rest in Peace is a book that everyone can relate to because life comes with an expiration date. Sooner or later everyone is going to die. They just don't know when. Walts and White feel that everyone must be aware of what they need to do to get their personal affairs in good order before they are gone, and they need to leave behind, for their survivors, information about themselves and instructions concerning the disposition of their belongings as well as their remains.
Charles Walts served for more than twenty-six years in the United States Army where he retired at the rank of Colonel in 1988. Subsequent to his retirement from military service, Mr. Walts served for seven years as the Information Technology Strategic and Disaster Recovery Planner for the Texas Education Agency.
In 1997, Mr. Walts became a professional business continuity and disaster recovery consultant for a large BCP/DR consulting firm. Mr. Walts developed more than 300 business and government agency continuity and disaster recovery plans for organizations in the United States, Canada, China, Japan, and Puerto Rico before becoming an independent contingency planning consultant in 2009.
Tommye White is a contributor to the book 'Rest in Peace'. Ms. White has more than 35 years' experience in business and government contingency planning. For the past seventeen years, Ms. White has worked with many companies as an independent contingency planning consultant where she developed recovery plans and trained hundreds of companies' employees. From 1986 to 1996, Ms. White was the Manager of Information Technology Administrative Services and Disaster Recovery for the Texas State Comptroller of Public Accounts. During 1996 and 1997 Ms. White worked for a large BCP/DR consulting firm, where she was responsible for providing professional business recovery services
About Next Century Publishing (NCP):
NCP is a hybrid publishing company that has carved out a niche by offering a wide variety of publishing services to its clients. At NCP, an author's needs are assessed and the right publishing platform is suggested based on those desires. From simple E-book publishing to traditional trade publishing, NCP does it all. NCP's revenues have grown by over 200% in each of the past 3 years. With offices in Las Vegas, Toronto, and Panama, the company is now prepared for another triple digit growth year.
Media inquiries: Shannon Lutz (702)912-2405 Shannon(at)NextCenturyPublishing(dot)com