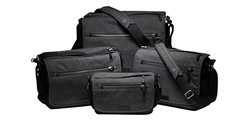 We wanted to build a luxury bag that you can drag through the mud and shoot with in the rain.
North White Plains, NY (PRWEB) October 29, 2015
Refined Bags with Uncompromising Pro Performance
Tenba has introduced a new collection of luxury canvas and leather bags that combine Tenba's hallmark professional performance with a classic messenger silhouette. Made from soft cotton canvas with full grain leather trim, Cooper bags exude timeless elegance on the outside, while the inside meets the critical demands of today's imagemakers.
Quiet Velcro
Photographers and filmmakers are often called upon to work as silently as possible in quiet environments, so the Cooper bags have been outfitted with Tenba's exclusive Quiet Velcro. By pulling down on the flap before pulling away from the bag, the velcro will disengage without noise, allowing access to the interior without drawing attention.
Exquisite Materials
From the full grain leather to the hand-riveted zipper pulls, Cooper materials have been carefully selected for their balance of style, strength and light weight. The peach-wax cotton canvas exterior has been specially coated to provide excellent water repellency, and it has been backed with an ultra light silicone-coated ripstop nylon liner. The full-grain leather base and trim has also been treated for waterproofness, just as with any outdoor apparel, so it is ready for every shooting condition.
"The photographers and filmmakers we work with will tear through anything that's built to be precious and cute," says Peter Waisnor, Vice President of Tenba. "We wanted to build a luxury bag that you can drag through the mud and shoot with in the rain."
Professional Features
These bags include all the accessibility, durability and weather resistance that Tenba bags are known for, including Tenba's signature Quick Access™ top zipper, silver/black reversible rain cover, rear laptop/tablet pocket, removable padded camera insert and smart interior organization. In addition, discrete slim side pockets can be used in their low-profile mode, or they can be expanded to hold a water bottle or professional zoom lens (up to 24-70mm 2.8 on Cooper 13 DSLR and Cooper 15).
A Size for All Needs
Cooper bags come in four sizes to fit everything from mirrorless/csc/rangefinder cameras with an iPad mini, up to large DSLRs with a 15-inch laptop. The Cooper 13 Slim is a unique configuration, built to protect a pro mirrorless camera system and still allow space for video accessories like microphones and a sound recorder.
Shipping and Prices
Cooper bags are shipping on November 1st, with retail prices of $169.95 for the Cooper 8, $229.95 for the Cooper 13 Slim, $249.95 for the Cooper 13 DSLR and $299.95 for the Cooper 15.
About Tenba:
Since 1977, Tenba has been making innovative carrying case solutions for professional photographers and filmmakers and their full equipment arsenal. To find more information about Tenba Cooper Bags, and to see a full video demonstration of all Tenba products, visit http://www.tenba.com
For more information, contact Kirstin Robison, Pitch Public Relations, 480.363.5371.