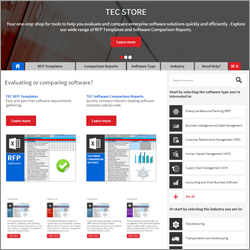 "Enterprise software buyers want to make a quicker decision, but not a poor one. The TEC store has resources that can help achieve this." -- Paul Kininmonth, TEC Operations Director of Software Selection Services.
Montreal, Quebec (PRWEB) October 30, 2015
Technology Evaluation Centers (TEC) is pleased to announce the launch of its completely redesigned online store. The store features RFP templates and software comparison reports— specialized tools to help organizations looking for software solutions save time, money, and resources in their buying process.
Each year companies spend a lot of time and millions of dollars going through the various phases of acquiring an enterprise software solution. Organizations looking to save time researching solutions and to expedite the often lengthy RFP process with vendors, can do so with TEC's RFP templates and software comparison reports. An RFP template contains a complete list of the most common features and functions of a software solution, which normally takes months to gather, and is available in an easy-to-use spreadsheet which organizations can customize to their needs—adding or removing features as needed.
TEC software comparison reports complete the picture with pre-populated RFP responses from hundreds of leading software vendors, allowing organizations to see at a glance all the functions that various software solutions offer. Organizations can use the report—also available in a spreadsheet—to easily compare solutions head-to-head to see how well or how poorly solutions support their requirements.
Says TEC Operations Director of Software Selection Services, Paul Kininmonth, "For many years, enterprise software buyers have been asking for tools to enable them to select software more quickly and easily, and to help them mitigate the risk of making a poor choice. The TEC store has products that do both."
Improvements to the TEC online store include easier navigation and a more simplified ordering process, as well as improved and redesigned samples for buyers to view before ordering. TEC RFP templates and software comparison reports are available in over 40 categories of enterprise software, including ERP, accounting, BI, CRM, SCM, and many more, and contain as many as 3,000 software features and functions.
For more information on TEC's software evaluation and selection tools and services, contact +1 514-954-3665, ext. 404, or e-mail selectionservices(at)technologyevaluation(dot)com.
About Technology Evaluation Centers (TEC)
Technology Evaluation Centers (TEC) is the world's leading provider of software selection resources, services, and research materials, helping organizations evaluate and select the best enterprise software for their needs. With its advanced decision-making process and software selection experts, TEC reduces the time, cost, and risk associated with enterprise software selection.
Over 3.5 million subscribers leverage TEC's extensive research and detailed information on more than 1,000 leading software solutions across all major application areas. TEC is recognized as an industry-leading software selection advisory firm offering resources and services both online and onsite. For more information, please visit http://www.technologyevaluation.com.