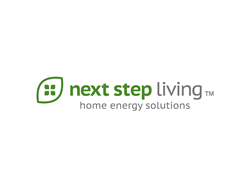 Boston, MA (PRWEB) October 29, 2015
Four "energetic" Massachusetts communities partnering with whole-home energy solutions provider Next Step Living have helped to save homeowners $540,000 in energy costs in just one year. The completion of more than 3,000 energy efficiency projects has won the towns of Chelmsford, Malden, Newburyport and Salisbury National Grid grants to continue their energy savings work.
To help these communities win National Grid awards, Next Step Living worked with town officials to implement community outreach programs for energy-saving solutions such as home energy assessments, more efficient heating and cooling options, as well as increased insulation and air sealing in homes. Through its proven methods of grassroots communication, Next Step Living has helped homeowners achieve more than $50 million in energy savings since its founding in 2008.
"Next Step Living is proud to help these four towns surpass their ambitious energy efficiency goals through this innovative National Grid Community Initiative," said Gabe Shapiro, vice president, Outreach Programs at Next Step Living. "The success of these communities is a true testament to their commitment to sustainability and we look forward to helping them add to their impressive carbon reduction results."
The four communities that Next Step Living worked with will share more than $86,000 in National Grid grants. The grants for these four towns (and others that participated) will be formally awarded November 4 by National Grid. In January 2016, National Grid will announce the next group of communities to take part in the energy savings initiative. Next Step Living plans to continue to work with the four recipient towns, as well as other communities involved in this program, to provide energy savings solutions.
"Both Next Step Living and National Grid have great track records in helping communities not only achieve, but actually exceed, their energy savings targets," said Dilena Diaz, senior marketing analyst, National Grid. "This latest program, part of our National Grid Massachusetts 2015 Community Initiative, shows the strong desire communities have to do their part to green the planet."
Initiative Adds to Carbon Reduction Impact Across the Northeast
Through Next Step Living's successful grassroots approach, the company has helped lower the carbon footprint of more than 100 cities and towns in the Northeast.
With Next Step Living's support, Chelmsford, Malden, Newburyport and Salisbury have collectively completed more than 1,800 home energy assessments and more than 1,200 weatherization (i.e. insulation and air sealing) projects. This measures up to achieve annual savings of 1,681 tons of CO2 (the equivalent of taking 353 cars off the road).
Individually, each town surpassed its goals. To see the exact results of each town's program, please visit NextStepLiving.com/TownImpact.
Communities interested in partnering with Next Step Living can visit NextStepLiving.com/CommunityPartners. For a complete look at all of Next Step Living's whole home energy services go to NextStepLiving.com/Home-Solutions
About Next Step Living
One of the fastest-growing companies in the country, Next Step Living is a leading provider of energy solutions in the Northeast. With its cornerstone top-to-bottom home energy assessment to identify ways to save money and energy, Next Step Living and its expanding portfolio of energy-saving solutions makes it easy to take immediate action towards living more sustainably, affordably and comfortably. Headquartered in Boston's Innovation District, the Next Step Living team is at the forefront of a more sustainable future. Please visit NextStepLiving.com for more information.