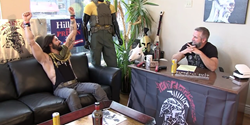 Episode 1 features Rudy Reyes telling TJ about his life, his endeavors and his upcoming movie John Came Home
(PRWEB) October 30, 2015
New Show "Talk Sh*t" with Tactical Sh*t.
This monthly one hour program will be published on YouTube and will feature interviews with Gun and Military Industry Celebrities. The show will evolve to be similar to the Tonight Show complete with skits, special segments, commercials and epic guests getting asked hard questions.
Episode 1 features Rudy Reyes telling TJ about his life, his endeavors and his upcoming movie John Came Home.
Talk Sh*t Inaugural Episode with Rudy Reyes Full Show Episode 1.