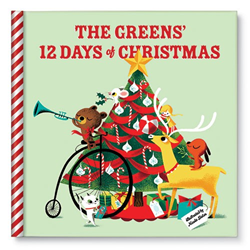 This Christmas, Chronicle Books will surprise and delight young readers with its new personalized Christmas book
Minneapolis, Minnesota (PRWEB) November 03, 2015
According to Garrison Keillor, "A book is a gift you can open again and again." This Christmas, Chronicle Books will surprise and delight young readers with its new personalized Christmas book, My 12 Days of Christmas, which features all the members of your family. Based on the classic Christmas tune "The 12 Days of Christmas" this new Christmas book is a customized keepsake that is sure to be opened again and again for years to come.
Christine Carswell, Publisher at Chronicle Books, said, "What makes My 12 Days of Christmas such a one-of-a-kind keepsake is that at Chronicle Books we've heard our readers' Christmas wish for a personalized book that will honor either a special child -- and/or a special family. Such thoughtful gift-givers can customize this book to best suit what they're looking for in a holiday present. For example: Harper's 12 Days of Christmas will celebrate lucky Harper on this book's pages; or The Smiths' 12 Days of Christmas can highlight each individual family member on the pages inside."
Customers can order a My 12 Days of Christmas book for their little "true love" at http://www.ISeeMe.com. Ordering is easy. The website has a simple form to fill out with the child's or family member names. Customers can also upload a photo of their child or family and write a custom dedication to make the book even more special.
According to Carswell, "With its fun illustrations, unique take on a Christmas favorite sing-along, and the educational value to children of learning numbers and memory skills through repetition, My 12 Days of Christmas will bring smiles to both the recipient and the gift-giver. And it will certainly be a wonderful addition to the cherished custom in my house of reading -- and singing! -- classics together as we hang our stockings on Christmas Eve."
My 12 Days of Christmas personalized books are made with love in Minnesota, one at a time, especially for each child. After ordering, the product will be delivered to the recipient within two weeks (Continental US, Standard Shipping).
Wish to win a copy? I See Me! is celebrating the release of My 12 Days of Christmas with a sweepstakes. One grand prize winner will receive a $500 VISA® gift card. Twelve lucky runners-up will win a My 12 Days of Christmas personalized book and other goodies under the tree from Picture People, Mudpuppy and Chronicle Books. Enter HERE by 11/30/15.
Inspired by the enduring magic of books, Chronicle Books publishes distinctive, high-quality gifts that are instantly recognizable for their creativity and spirit. Celebrate life's memorable moments and customize Chronicle's acclaimed, best-selling books and innovative products into one-of-a-kind keepsakes. Chronicle's personalized books are available to be purchased at ISeeMe.com, the source of award-winning personalized books that children cherish for a lifetime.