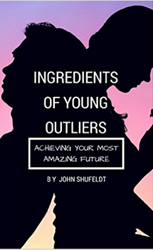 "The importance of teaching kindness, confidence, and social responsibility to teens is huge; this book does that beautifully through relatable, inspiring, and humorous anecdotes..." says Maribeth Sublette, former high school teacher
(PRWEB) October 29, 2015
Outliers Publishing is honored to announce that the book, Ingredients of Young Outliers: Achieving Your Most Amazing Future, is ranked in the top 110 in three children's book subcategories relating to peer pressure and bullying on Amazon.com in timely occurrence during National Bullying Prevention Month. In the book, author Dr. John Shufeldt recounts his life lessons learned through youthful difficulties in school and social situations, while also sharing about his professional journey and stories of notable individuals who faced challenges on their road to success.
On Tuesday, October 27th, 2015, the eBook ranked #30 in the Kindle Store children's eBook subcategory, "Peer Pressure", and #59 in the subcategory, "Social Situations." The book also ranked #110 in the Books subcategory "Peer Pressure."
"The importance of teaching kindness, confidence, and social responsibility to teens is huge; this book does that beautifully through relatable, inspiring, and humorous anecdotes. When kids realize that they are leaders, they are so much more likely to use that social influence for good," says Maribeth Sublette, former high school teacher.
Filled with relatable testimonies about overcoming setbacks and failures, author John Shufeldt's purpose for Ingredients of Young Outliers was to serve as a surrogate mentor for teens and young adults. While addressing peer pressure and bullying, among other young adult issues, the book is designed to build the confidence of young readers and encourage qualities like kindness, integrity, and teamwork as positive leadership traits.
Mary Vallelonga, owner and teacher at Little Friends Montessori Schoolhouse says, "Ingredients of Young Outliers, is filled with cornerstone virtues of courage, hope, humility, respect, integrity, trust and love. It shares the importance of how 'mentors' can make a life changing difference in someone's life. I am certain that everyone who reads these stories will hold their heads up a little higher, their smile will be a little brighter, their tears will be tears of joy and they will believe that they too have what it takes to be an 'Outlier'."
Ingredients of Young Outliers: Achieving Your Most Amazing Future is available in paperback and eBook formats for purchase on Amazon.com and http://www.ingredientsofoutliers.com .
To become more familiar with bullying issues facing children and young adults, and for resources on bullying prevention, visit http://www.stompoutbullying.org.
For media inquiries contact apacion(at)ingredientsofoutliers(dot)com.
About Author John Shufeldt:
As well as being a practicing doctor and lawyer, Shufeldt is also a pilot (both plane and helicopter) and a business entrepreneur (and if pressed, he will reluctantly admit to being a 'budding' chef and Taekwondo black belt). Shufeldt received his BA from Drake University in 1982 and his MD from the University of Health Sciences/ The Chicago Medical School in 1986. He completed his Emergency Medicine Residency at Christ Hospital and Medical Center in 1989 where he spent his final year as Chief Resident. He received his MBA in 1995, and his Juris Doctorate in 2005, both from Arizona State University. He is admitted to the State Bar in Arizona, the Federal District Court and Supreme Court of the United States. Shufeldt is also an adjunct professor at the Sandra Day O'Connor College of Law where he teaches a clinic on Health Law Entrepreneurism. He serves on the Drake University Board of Trustees and the Sandra Day O'Conner College of Law Alumni Board
About the Outlier Series:
After the publication of Ingredients of Outliers, Ingredients of Young Outliers, Ingredients of Outliers: Women Game Changers, Outliers in Medicine, and Outliers in Education, Outliers in Law will be followed by at least 9 other books over the course of 2015-2016. The books are intended for students, college graduates and anyone interested in entering or furthering their career. The goal of the series is to offer books specific to sought-after career fields with insider information and recommended channels for pursuing that career from experts in each respective profession.
The career fields featured in the Outlier Series will include but are not limited to: Education, Writing & Journalism, Health, Sports, Entrepreneurism & Business, Music, Science, Arts & Entertainment, Technology, and Service to Mankind & Humanity.