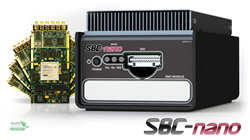 A Rugged Windows/Linux Embedded Computer with XMC IO Site and 1 GbE Link Small, XMC form factor: 5.9 x 3 inches
Camarillo, CA (PRWEB) October 30, 2015
Innovative Integration, a trusted supplier of signal processing and data acquisition hardware and software solutions, today announced the new SBC-nano - a user-customizable, turnkey single board computer with full Windows/Linux PC functionality to provide autonomous operation of a huge assortment of FPGA-accelerated, analog I/O-equipped XMC modules. With its modular I/O, scalable performance, and easy-to-use PC architecture, the SBC-nano reduces time-to-market while providing exceptional performance for deeply-embedded applications.
The SBC-nano hosts any of Innovative Integration's high-performance FPGA-based XMC mezzanine cards, supporting high-speed analog, digital and communications applications. The Sbc-nano is a conduction-cooled solution, engineered to ruggedization level 3, for use in vehicles or other mobile applications. Multiple SBC-nano may be interconnected via a WAN to address wide-channel count applications requiring system-wide, multi-module clock and triggering or communications functionality.
Customizable FPGA for analog/RF processing. The FPGA on Innovative's XMC products are user-reprogrammable using the FrameWork Logic. The Framework provides comprehensive support for FPGA signal processing development in MATLAB and RTL, shortening the logic development cycle by building application logic within the FrameWork Logic hardware layer using pre-written and verified IP cores.
Applications include:

Distributed Data Acquisition: Put the SBC-nano at the data source and reduce system errors and complexity. Limitless flexibility – Embellish FPGA signal processing or swap XMC module to alter functionality. XMC site for I/O, user-programmable FPGA for real-time DSP, ethernet for WAN system connectivity, dual mSATA for long-duration data logging/signal playback, GPS/IEEE-1588 supporting synchronous operation over large distances, USB ports to allow connectivity to ubiquitous peripheral devices.
Remote or Local Operation: Continuous data streaming up to 500 MB/s (local SSDs) or 1 Gb/s Ethernet. A dual, 10 GbE expansion module will be available soon.
Rugged: Boots OS from embedded 16 GB eMMC drive in a compact, rugged 150x75mm footprint that is ready for deeply embedded operation in a rugged environment. Perfect for portable or automotive battery operated RF data loggers, beam steering, LIDAR/RADAR or waveform synthesis applications powered via a 6-14V DC supply.
About Innovative Integration
Innovative Integration is a subsidiary of Interconnect Systems, Inc. (http://www.isipkg.com). Innovative Integration is a data acquisition company that designs embedded boards, for digital signal processing, software defined radio and data acquisition with digital & analog interfaces which incorporates re configurable FPGAs that include the form factors of XMC, FMC, PCIe, VPX and PXIe adaptor. Digital receiver instrumentation and embedded PCs are also included within our product portfolio. For more information on Innovative Integration please visit http://www.innovative-dsp.com. Innovative Integration is a registered trademark of Interconnect Systems, Inc. All other trademarks mentioned are the property of their respective owners.