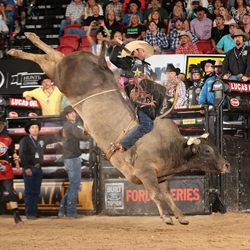 H.D. Page's bovine athlete saved his best performance of the season for his final
Las Vegas, Nevada (PRWEB) October 30, 2015
The finals were held at the Thomas & Mack Center and as reported by the PBR web site ". . . H.D. Page's bovine athlete saved his best performance of the season for his final, out of the Built Ford Tough World Finals. Long John swung to the left and battled jump for jump against Fabiano Vieira and used the same brute strength that made him a top World Champion Bull contender, to win the 2015 championship". 
Owners Dillon and H.D. Page of D&H Cattle have been using SweetPro products for their bucking bulls for over 7 years now, with impressive results. Their bull Bruiser captured the second place finish in the PBR finals, as runner up to their top bull SweetPro's Long John. Winning the top two places at the championship is quite an achievement. But their bull Bruiser also won the American Bucking Bull Incorporated (ABBI) Classic Championship earlier this year.
Since the mid 90s, the father and son team of Dillon and H.D. Page and their Page Bulls business that operates on 1500 acres in Oklahoma have been supplying top notch bucking bulls to the PBR events all across North America. SweetPro products have been a regular part of their program to breed and raise top performing bulls.
To see an earlier PBR performance by SweetPro's Long John, click on this YouTube link to take you to the SweetPro YouTube channel. SweetPro president Bob Thornberg interviews PBR rider Nathan Schaper about riding SweetPro's Long John.
Congratulations to D&H Cattle, Dillon and H.D. Page and their outstanding 2015 PBR Champion SweetPro's Long John. PBR Photo by Andy Watson/BullStockMedia.com, courtesy of Professional Bull Riders.

COMPANY INFORMATION
SweetPro Feeds is a U.S. manufacturer of premium feed supplements for cattle, horses and other livestock, made from condensed distillers solubles – CDS. Our patented process in non-molasses free choice blocks uses dried distillers grains that are fermented by yeast. SweetPro products are high in enzymes, multi-class prebiotic fibers, volatile organic acids and our blend additive ProBiotein. These support overall digestion, feed efficiency, animal health and performance by keeping livestock digestive systems performing the way nature intended.