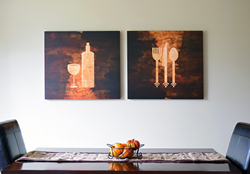 Dacula, Georgia (PRWEB) October 30, 2015
WallLillies just launched earlier this month with its innovative art customizing tool that allows customers to mix and match custom wall designs, colors, pattern wall art, and backgrounds from the WallLillies Mix and Match Custom Wall Art collection to create your own custom artwork.
WallLillies was founded with the goal of offering creative ideas for home décor and maximum versatility with everything from children's wall art designs for girl's room wall art or boy's room wall art on bold and vibrant chevron pattern backgrounds, or abstract art, to elegant and subtle decorative living room wall art, dining room wall art, and all other areas of the home and office. In order to offer this amount of customization, WallLillies spent over a year prior to its launch in research and development to create the WallLillies art customizer, a unique way to mix and match our custom canvas wall art collection. With WallLillies "blank canvas", you can create your own custom home and office wall art, wall art for teens, wall art for kids, nursery room wall art, seasonal wall art, holiday wall art, wall art for all areas of the home. WallLillies launched on October 3rd with over 150 designs and is continually designing new artwork, so each time you visit there is always something new. WallLillies has a great big canvas selection and offers custom canvas prints, peel and stick posters, and wall decals in a large selection of wall designs for:

Children's wall art
Nursery room wall art
Teen wall art
Home and office wall art
Abstract art
Pop art
Custom artwork
Christmas wall art
Holiday wall art
Fall and seasonal wall art
Decorative wall art
Pattern wall art
WallLillies is a family-owned business with two very important goals. 1) To make home decorating a creative, fun, and easy experience for customers by offering innovative designs and creative versatility, and 2) to give back to the community and inspire others. The company is inspired by the concepts of bringing together and unifying diverse concepts in our artwork and the desire to raise awareness for the special needs community. To promote that awareness and help support other families of special needs children, WallLillies donates to support the special needs community and charitable organizations that help fund the programs that are so vital to this community. As part of WallLillie's dedication to helping special needs children and their families, the company donates a portion of every sale to the Easter Seals Foundation. The Easter Seals Foundation helps fund crucial early intervention therapy programs for children with developmental delays and provides much needed support to the families of special needs children. In 2016, WallLillies will launch their Specials Program to promote special needs awareness and raise funds for individual families and other organizations that are so crucial for special needs children and their families. Each month will feature a different special needs child and tell their story. All proceeds for the month's sponsored piece will be donated to families in need and to charitable organizations who provide research and development and additional support to the special needs community. More details to follow on our blog in December.
For more information about WallLillies Mix and Match Custom Wall Art (WallLillies) visit walllillies.com or contact us directly at 470-375-3502 or ptyson(at)walllillies(dot)com