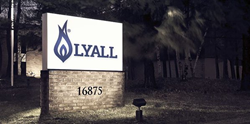 We've worked hard over the past 40 years developing personal relationships and putting systems and processes in place that enable us to react to a request like this....
Corona, Calif. (PRWEB) October 30, 2015
In a recent statement presented to oil and gas pipeline components manufacturer R.W. Lyall, Arizona utility, UniSource Energy Services (UES), publicly thanked the company for "coming through" with top-notch products and services when the utility was faced with unexpected demand they feared their existing supplier could not meet. With three months to create, order and distribute part numbers for fittings and tools, draft regulation-specific procedures, and develop and implement a training schedule, UES made the switch to Lyall, hoping for a last-minute fix for what they called "a potentially large problem."
In the statement, UES said, "The components currently used for plastic joining were becoming increasingly difficult to procure. With several large subdivisions, as well as normal growth and replacement projects anticipated in the coming construction season, the current process would mean [we] would not be able to meet our ever increasing customer needs. [We] desperately needed a solution that was quick and seamless."
UES management reported that, while the decision to switch suppliers was easy, they expected implementing the decision to be difficult and complex. On a three-month deadline, UES would need to create, order and distribute new part numbers for fittings and tools, and would be required to draft procedures meeting company, Federal PHMSA and Arizona state pipeline safety commission regulations. They would also have to develop and implement training for field workers.
"The effects were felt throughout the entire company, from administration to the field," UES said in the statement. "It took a tremendous team effort internally, along with close coordination with our procurement team, our supplier and the manufacturer. The company could not afford to let any construction be delayed or stopped during the entire process."
UES reported that the initial part numbers and shop drawings Lyall delivered were quickly accepted, and the company provided the tools and fittings for training ahead of time to ensure crews would be qualified for installation. UES also said that a Lyall representative provided training in person to crews and contractors at all seven of its districts and had some of the training materials shipped directly to his home to assist with tight project deadlines.
Despite the extreme time constraints, none of the customers in UES's districts suffered materials shortages or stoppage of installation.
In a recent interview, Lyall's COO, Bruce Lange, said of the utility's statement, "We couldn't be happier with the outcome of the UES transition to Lyall products, but more importantly that we were able to help them when they needed it most. That is what builds relationships and that is what is important to us. We've worked hard over the past 40 years developing personal relationships and putting systems and processes in place that enable us to react to a request like this, and it is extremely encouraging when that hard work pays off."
UES said, "Several months after the switch was completed, [we are] very happy with our new supplier, and field crews are happy with the product. To add emphasis to gratitude, our previous supplier came to us after the switch and stated the lead times were still six months out, so our decision to switch to Lyall was further solidified by [the previous supplier's] final notice."
About R.W. Lyall
Lyall is a privately held corporation founded in 1970 by Robert W. Lyall. Lyall built the company with the intent of manufacturing the best pipeline components available to the natural gas industry. With an emphasis on quality and a business philosophy that puts the needs of the customer above all else, Lyall succeeded in that mission. Today, his children and the entire Lyall team maintain this legacy of quality with continually expanding operations that now include 200,000 square feet of manufacturing space in three facilities, located in Corona, Calif., New Berlin, Wis., and, now, Dickenson, N.D. More than 250 employees produce and distribute 22 Lyall product lines across North America.
####