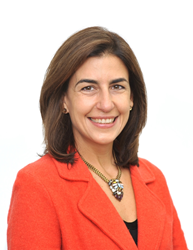 Los Angeles, CA (PRWEB) October 29, 2015
Evolve Media announces the executive appointment of Marisa Costa as Vice President of Sales, East Coast for TotallyHer Media, the independent lifestyle publisher's division dedicated to women and their families. Bringing more than 15 years of experience in publishing, digital advertising, e-commerce and branded content creation, Costa will lead East Coast sales efforts for TotallyHer's portfolio of properties, including Momtastic.com, TotalBeauty.com, theFashionSpot.com, AfterEllen.com, and Dogtime Media.
Costa (pictured), who will be based in Evolve Media's New York office, joins TotallyHer Media from Hearst Digital Media where she served as Director of Key Accounts, managing prestigious clients such as Macy's and Procter & Gamble. During her two year tenure, she played a crucial role in the development of custom content programs for brands such as Olay, Cover Girl, Pantene, Bloomingdales and Chanel. Prior to Hearst, Costa served as the Digital Advertising Director for Glamour, where she was responsible for all ad sales, marketing and strategy for Glamour.com. She led Glamour.com's team of integrated and dedicated digital-only sellers, facilitating two times year-over-year revenue growth.
"As a seasoned advertising leader with extensive knowledge of women's lifestyle categories within the digital space, Marisa was the perfect fit to help lead sales efforts for TotallyHer," said Geoff Schiller, Chief Revenue Officer of Evolve Media. "With its rapid expansion and recent string of acquisitions, TotallyHer needed an accomplished executive to help guide the organization's sales strategy on the East Coast and continue to strengthen the TotallyHer brand."
Before Glamour.com, Costa acted as the Director of Sales Development and Associate Director of Integrated Marketing at Hearst, where she successfully brought in new accounts while also maintaining the existing business. Earlier in her career, Costa held the position of General Manager of Epicurious.com and Concierge.com at Conde Nast, where she was responsible for budgeting, marketing and business development. She also held various marketing and sales positions at Newsweek, Brownstone Publishers and M. Shanken Communications.
"TotallyHer is already positioned as a leader in publishing for women and their families, and I'm eager to build on that momentum," said Costa. "With its ever-expanding portfolio of award-winning properties, there is massive potential for growth. I'm thrilled to have the chance to work with the talented TotallyHer team to identify and implement a territory strategy, drive revenue opportunities and take on a leadership role by promoting TotallyHer to the market at large."
Costa is the third executive hire at Evolve Media in the last few months. She joins Jennifer Catto, who was recently brought on as Senior Vice President of Integrated Marketing of Evolve Media, and Vincent Krsulich, who was appointed Senior Vice President of Sales for Martini Media, which was acquired by Evolve Media this year.
About TotallyHer Media
TotallyHer (http://www.totallyhermedia.com) is a leading digital media, marketing and sales organization dedicated to women and their families. Committed to Everything She Loves, TotallyHer Media publishes a portfolio of award-winning properties that include TotalBeauty.com, Momtastic.com, theFashionSpot.com, Dogtime.com, Realitytea.com, and AfterEllen.com. In 2015, Momtastic.com won the Webby Award for Best Parenting Site and theFashionSpot.com won the OMMA Award for Best Fashion/Beauty Site. With 54 million unique visitors (July 2015), TotallyHer's scale and proprietary technologies enable brands to not only reach women, but also engage and interact with them. TotallyHer is owned and operated by Evolve Media LLC, an integrated digital media company focused on vertical publishing, advertising sales and marketing services for its clients.
About Evolve Media LLC.
Evolve Media is a publisher of leading enthusiast lifestyle destinations for men (CraveOnline Media) and women (TotallyHer Media). Leveraging proprietary advertising and publishing technologies, as well as hundreds of talented content professionals, Evolve Media offers premium and engaging content to its readers, while offering marketers the tools needed to execute custom, content-led marketing solutions that reach its audience of over 95 million people globally each month. Our mission is simple; we create the content people are passionate about.
Follow Evolve Media on Twitter at @EvolveMedia_LLC and on Facebook at http://www.facebook.com/evolvemediallcpublishing.