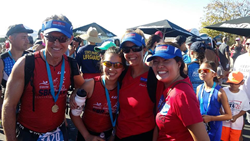 "It is a gift to coach people for triathlons, and help them fulfill their athletic dreams," says Pam Nichol, owner of SBR Coaching.
Irvine, California (PRWEB) October 30, 2015
If you have ever had a dream of competing in a triathlon and you are a Baby Boomer, now is the time. A growing number of people in their 50's and their 60's are seeking a new challenge in triathlons that test discipline and endurance.
The "Baby Boomer" generation typically has more time on their hands; and is getting ready for retirement and their kids have gone off to college. Triathlon competition comes with many added health benefits. Many "Boomers" see improvements in cardiovascular health, muscular strength and endurance, weight loss and an increase in confidence.
According to John Kernaghan with Forever Young Information, "the number of participants age 50 and older has more than doubled since 2015." Lilah Grant, a 55-year old Newport Beach, Calif., resident, is a face behind this statistic. She is now training for her fourth race this year, and has been a podium finisher for two triathlons.
The New York Times reports that Baby Boomers make up a quarter of the USA Triathlon's membership numbers. Pam Nichol, owner of SBR Coaching, a triathlon coaching company based in Irvine, California, agrees for over 80 percent of her several hundred clients are 40 and over.
But Nichol says you are never too old or too young to do a triathlon. Nichols' clients are anywhere from five to 70. She specializes in beginner and intermediate triathletes.
Triathlons can often be a family affair. Take the Czochanski family from Irvine, Calif.; who all compete in triathlons. John will be training for his first Half Ironman soon, while his wife, Shawn, and daughter Helena are pacing themselves a little more.
"I can't believe at 49 years of age and not really exercising at all before I started training with my family, I was able to finish an ocean swim triathlon with my 11-year old daughter," says Shawn.
"It is a gift to coach people for triathlons, and help them fulfill their athletic dreams," said Nichol.
About SBR Coaching
Owner Pam Nichol has ten years of experience as a USAT Level 1 Triathlon Coach, receiving her certification in 2005 at the University of Texas in Austin. She continued her education in 2006 at the USAT USA Triathlon, "Art & Science of Triathlon" in Colorado Springs. She is also an ACSM certified Personal Trainer, Masters Swim Coach and Boot camp Instructor.
Nichol has coached hundreds of adults and children in both group and individual settings in the three disciplines — swim, bike and run. She also conducts group and open water swim lessons at various lake and ocean venues in Orange County. Pam has completed over 80 triathlons in the last 17 years, including one Ironman and three Half-Ironman finishes. She is an Olympic distance National qualifier. For more information, go to http://www.octriathloncoach.com or email Coach Pam at coach_pam(at)sbcglobal.net.
About Fit4Kids Youth Triathlon Club
Fit4Kids Youth Triathlon Club is for boys and girls aged 5 to 14 years old looking to learn and develop their Triathlon sport skills. Youth fitness skills development in swimming, biking and running, and team sportsmanship are the fundamental principles of the Fit4KidsTriathlon Training program. To find out more, go to http://www.octriathloncoach.com/fit4kids-youth-triathlon-club.