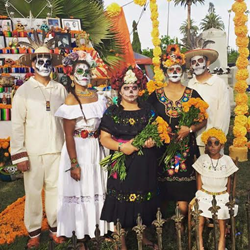 The marigolds scent is said to attract the departed back to the land of the living on Dia De Los Muertos
Los Angeles, CA (PRWEB) October 29, 2015
Colorful, poignant Dia De Los Muertos altars dazzle the senses as peppery scented Day of the Dead orange marigolds take center stage. California Flower Mall, a 45 vendor wholesale flowermart in Downtown L.A.'s Flower District, raises altar artists' spirits with marigold deals up to 70% off retail prices.
Millions of Mexican-American Angelenos celebrate Dia de Los Muertos or Day of the Dead on November 1. In keeping with the tradition and artistry of Pre-Columbian ancestors, they create personalized altars to show love and respect for departed family members. Flowers adorn the altars or ofrenda in homes, cemeteries and public places during this joyous and sacred fiesta. The star flower of the altar is the giant orange marigold known as cempasuchitl. It's named "flower of the dead" by the Aztecs because the marigolds scent is said to attract the departed back to the land of the living on Dia De Los Muertos, according to the UNC Institute for the Study of the Americas report. Public altars are often framed in orange or yellow cempasuchitl and feature marigold petal pathways to guide returning spirits to their very own altar stocked with their favorite foods, beverages, and mementos.
Altar artist Jose Martinez of Paramount, CA acknowledges the value of having the largest floral industry hub in the U.S. close by to source fresh flowers. Martinez and his brothers are constructing a 10' x 30' public altar to commune with their Mother who passed on eight months ago and 20 other departed family members. "The people here are helpful and friendly, parking and loading is easy enough and the prices are the best. It's definitely worth the trip," Martinez says as he loads 12 - 2 dozen bunches of fresh marigold stems swaddled in brown paper into his van.
"This floral holiday marks the start of the busy season for CFM flower vendors, it will continue through Mother's Day 2016. The marigold reigns as the Day of the Dead altar flower, but red, yellow, purple and white flowers are popular celebration colors too. Dia De Los Muertos celebrates the cycle of life and like fresh flowers it speaks the language of the heart," says Mark Chatoff, President of California Flower Mall. CFM is open Monday – Saturday 4:30 a.m. – 4:30 p.m. and Sunday 6 a.m. – noon to supply fresh flowers for altars. Admission is free to the public. For more information visit http://www.californiaflowermall.com.
About California Flower Mall
The California Flower Mall, located at 825 San Pedro Street, is one of the largest DIY wholesale flower marts in Downtown L.A.'s eight block Flower District community, the largest concentration of wholesale flower markets and flower businesses in the U.S. It is located in the LA Fashion District Business Improvement District.