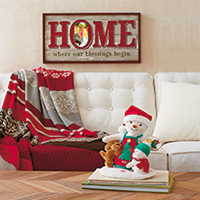 KANSAS CITY, Mo. (PRWEB) October 29, 2015
Hallmark Gold Crown® stores and Hallmark.com are hosting a Holiday Open House event Nov. 6-15 to help consumers make this a memorable and meaningful holiday season. The annual event gets the holiday shopping season started with creative ideas and gifts for everyone on the list, as well as great offers and promotions.
New products and special offers available during Hallmark Holiday Open House include:
Home Décor — Hallmark offers a variety of home décor items – many at 30% off – that will light up a home as well as people's spirits and help set the stage for a memorable Christmas.

Enchanted Art – Artistry comes to life with these rustic wood signs featuring meaningful holiday messages combined with dimensional light and layered paper to create a 3D scene with a soft glow that will warm the season.
(Regularly $24.95 – $69.95 each, 30% off during Holiday Open House)

Hallmark Artist Collections – Hallmark artists Kim Pjecha, Ken Sheldon, Kim Mallory, Gary Head, and Joanne Eschrich infuse holiday décor with their creativity and unmistakable style. Their Hallmark Gold Crown Artist Collections, which feature items including pillows, framed art, sculpted figures and ornaments, capture the real-life stories, personalities and inspirations of these gifted artists.
($6.95 – $39.95)

Flickering Lantern – Perfect for a mantel or as a centerpiece, this metal lantern features a LED candle with a built-in timer that emits a soft glow. A festive bow and greenery add just the right finishing touch.
($29.95, or $19.95 with the purchase of three Hallmark cards)
Gifts for Kids — This Christmas, Hallmark Gold Crown stores are full of gifts for kids that will help inspire imaginations, start new traditions and provide ways to give back.
Hallmark Personalized Books – Make a child a part of the story and bring their dreams to life with a Personalized Book. Add the child's name and choose the gender, hairstyle, eye color and skin color of the main character to match. The child's likeness will appear on every page of the book, including the cover, and will make little ones feel special and loved.
($39.95 - $44.95, 30% off during Holiday Open House)

itty bittys® – Whether to play or to snuggle, these adorable characters are right at home under the tree or as a stocking stuffer and are the perfect "itty bitty" size to put a smile on every face. Adding to the increasingly popular lineup of collectibles are holiday versions of several favorite characters. Also new this year is a special itty bittys® Nativity Set that includes a plush angel, Mary, Joseph, the Baby Jesus and a stable playset.
($6.95 each; $39.95 for Nativity Set)

Holiday Recordable Storybooks – These perennial favorites make it possible for grownups to be there for a child's storytime, even if they can't be together. Surprise a special child by reading and recording great holiday stories like The Night Before Christmas, The Greatest Gift: A Story of the Nativity, and At Christmastime and Always, I Love You.
($29.95, 30% off during Holiday Open House)

Keepsake Kids My First Tree – Start a new tradition that's just their size with a soft, tabletop Christmas tree made for little hands. Kids can decorate their very own tree over and over again with small plush ornaments that hang from brightly colored buttons.
($29.95 for tree, 30% off during Holiday Open House; $7.95 each ornament, or 3 for $20)
Hallmark Keepsake Ornaments — Capture this year's moments, both big and small, with one of the new 2015 Hallmark Keepsake Ornaments. Celebrate memorable milestones with "Baby's First Christmas" and "Our Family," capture favorite activities and interests with a sports figure or character from a movie, or build anticipation for the season with "Countdown to Christmas."
(Starting at $7.95)
Makers Collection Gift Wrap — Show personal style by designing customized, one-of-kind gift wrap with the new Makers Collection. This collection offers more than 100 different kinds of roll wrap, bags, tissue, trims and accessories in solid and plaid designs with a bit of glitz and glitter that can be mixed and matched to create a unique, one-of-a-kind gift wrap that will stand out under the tree. Personalizing a gift has never been so quick or easy.
($1.99 - $7.99, 30% off during Holiday Open House)
Christmas Cards — There are so many ways to spread joy with more than 2,000 Hallmark Christmas cards to choose from, including boxed cards and individual greeting card designs ranging from traditional to elegant to contemporary. A wide selection of Christmas boxed cards and individual cards are also available at Hallmark.com.
(Individual cards starting at $.99; Boxed cards buy one, get one 50% off during Holiday Open House)
In addition, shoppers will find special prices on many other products and other surprises in stores during Holiday Open House. All things holiday can be found at Hallmark Gold Crown® stores nationwide and at Hallmark.com. Use the store locator on Hallmark.com to find the nearest Hallmark Gold Crown store.
About Hallmark Cards, Inc.
Hallmark makes the world a more caring place by helping people express what's in their hearts and connect in emotional ways with others. In the U.S., innovative Hallmark greeting cards and gifts are sold through the network of Hallmark Gold Crown® specialty stores, leading mass retailers and online. Worldwide, Hallmark offers products in more than 30 languages available in 100 countries. Millions of households enjoy family friendly television programming offered by cable's top-rated Hallmark Channel and fast-growing Hallmark Movies & Mysteries. Hallmark's Crayola subsidiary inspires artistic creativity in children through Crayola® crayons and markers as well as other innovative art tools, crafting activities and creative toys. Privately held Hallmark is based in Kansas City, Mo., and continues to be led by members of the founding Hall family. Visit http://corporate.hallmark.com for more details. Connect at Hallmark.com and on Facebook, Twitter, Instagram and Pinterest.