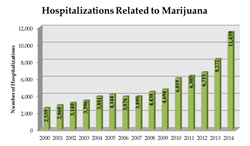 Powell, Ohio (PRWEB) October 29, 2015
A citizens' advocacy company in Delaware County says that Ohioans should be concerned about a recent report issued about the impact of marijuana in Colorado. The report entitled "The Legalization of Marijuana in Colorado: The Impact", Volume 3 September 2015 by the Rocky Mountain High Intensity Drug Trafficking Area indicates that in Colorado in 2014 over 11,000 people were hospitalized due to marijuana sickness. (A) This is new data that was not available in previous reports, and shows Colorado's 15 year history on marijuana hospitalizations - as outlined in the report (page 81, web link below.) Colorado made both medicinal and recreational marijuana legal during 2014 - the same thing proposed by Issue 3 here in Ohio. The Colorado data shows a major increase in hospitalizations in 2014 (over 3,000) due to marijuana.
Scott Williamson, President of the company, Citizens for Responsible Media, LLC, says he is also concerned about the fact that the report indicates that the percent of all traffic deaths that were marijuana related in Colorado reached 19.26% in 2014. (page 17 of report mentioned above, web link below).
The new Colorado report shows health and accident concerns about marijuana. These risks were addressed by one of the nations experts on drug abuse, Dr. Nora D. Volkow, Director National Institute of Drug Abuse. She testified before Congress (House Subcommittee on Government Operations) on June 20, 2014. In her conclusion, she commented on both marijuana health and driving issues (website for her testimony shown below) in the first part of her closing:
"Scientific research has linked marijuana use to a range of significant adverse effects on health and well- being. For example, its acute effects during intoxication interfere with cognitive and motor processes needed for driving a vehicle, and thus marijuana use significantly raises the risk for automobile accidents. Frequent marijuana use during adolescence may have a prolonged or even permanent deleterious impact on brain function and may jeopardize a young person's educational, professional, and social achievements. ..." (B)
Williamson says the new Colorado report and Dr. Volkow's testimony indicate that Ohioans should vote NO on Issue 3.
Supporting Data Information With Release:
Citizens for Responsible Media, LLC is a public interest company that is focused primarily on protecting young adults and children from negative influences in their environment (for example - highly sexual network TV material in the early evening that violates FCC guidelines.)
(A) The new Colorado Report, Volume 3, September 2015– Available at this web site: http://www.acpeds.org/wordpress/wp-content/uploads/2015-LEGALIZATION-OF-MARIJUANA-IN-COLORADO-THE-IMPACT1.pdf Choose Sept. 2015 Report. 182 pages – (Use page number on bottom of report.). See charts on pages 17 (traffic deaths), & 81 (hospitalizations). Also charts on 24, 40, 42 and 77.
(B) Testimony of Dr. Nora Volkow, June 20, 2104 web site: https://oversight.house.gov/wp-content/uploads/2014/06/Dr.-Volkow-NIDA-Testimony-and-Bio.pdf Conclusion starts on Page 14
FOR MORE INFORMATION CONTACT:
Scott Williamson, President
Citizens for Responsible Media, LLC.
E-Mail swilliamson(at)att(dot)net
614 798-1792, Fax 614 798-0619