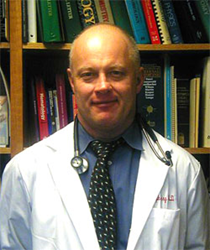 We are all creatures of habits. If our past habits are not helping us, it's time for something new.
New York (PRWEB) October 28, 2015
Camillus Doctor, Dr. Joseph Barry, a board certified internist and geriatric specialist is helping the community food bank by offering free health care consultation.
Noticing from reports that an increasing number of children and families in his community are struggling with basic needs such as food, Barry invites the community to participate with a donation of 20 dollars to the Food Bank of Central New York.
Each person is to be rewarded with a full 30-days worth of his personal consultation and guidance on any health issue they have.
When asked why he would do such a program and donate all the proceeds, Dr Barry said, "Local communities are strong due to the free spirit of giving and helping one's neighbors. If I could get the public to help the hungry families while addressing people's basic health concerns, why not?"
Dr. Barry explained, "It is a growing problem. Donations to food banks have decreased as food demands have increased. Food Banks need help all year round and we all can help them by working together."
At the same time, Dr. Barry noted that there is a trend of Americans delaying needed healthcare due to not able to afford co-payments. "When Americans delay needed healthcare, they put themselves at risk for more serious diseases." That said, Barry decided to offer the 30-day free health consultation program.
Having practiced in the local community for over 25 years, Dr. Barry says living a healthy lifestyle trumps all the medications in the world. There are no shortcuts.
"We are all creatures of habits. If our past habits are not helping us, it's time for something new." said Barry.
Dr Barry held biweekly walks with his patients and even organized cooking classes to learn how to cook and eat right.
"Personal change and growth comes from within. Don't dream it. Be it!" Dr Barry shared the attitude he imparts to patients who wish to get healthier.
Barry is the founder of a Signature MD concierge practice which combines straightforward and up-to-date medical care with a holistic and personalized approach. He provides round-the-clock care to patients as part of a specialized membership program and spends more time with patients than doctors from traditional practices.
For the free 30-day consultation, patients can talk to him about any ailments or simply a desire to get healthier. To take advantage of this program the patient would not have to leave their current doctors. They could use their insurances as well for additional services.
"The month-long interaction will be very goal-oriented. I evaluate where the patient is currently and where they want to be both mentally and physically. The next step is to make a plan, monitor the plan and reinforce the plan. My motto is, 'Wake up and take charge of your health and your life!'" said Dr Barry.
For more details of the campaign spearheaded by Dr. Barry to benefit people in need of health care as well as providing more donations to the local food bank, visit his site