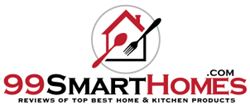 Fredericksburg, VA (PRWEB) October 29, 2015
To celebrate Energy Star Day, 99Smarthomes.com has released an infographic designed to help American consumers reduce energy waste.
"The amount of energy wasted in America in 2012 could power the United Kingdom for seven years," informs 99Smarthomes.com spokesman Jay Smith. "We know Americans want to do better, but don't always realize how small changes quickly add up to big energy savings. We developed this infographic to give everyone access to 15 quick and easy ways to make their homes more energy efficient."
The great thing about energy savings is that it is reciprocal; as you reduce your energy consumption, you save big on utility bills too.
"It's very motivating to know that by just switching to programmable thermostats, you can save up to $180 per year," says Smith, "and with today's wireless technology, you can even control these thermostats remotely by using your smartphone."
Other smart solutions include keeping on top of your home maintenance, such as changing your air filters on time and installing a drip shower head that doesn't waste water as you lather up with soap. Smart blinds not only reduce heat loss by over 80 per cent, they can put an additional 15 per cent savings directly back into your wallet.
"We are paying for the energy that is wasted in our homes," Smith warns, "and we waste a whopping $130 billion dollars a year as a nation! Let's put that in perspective. Apple Inc. has a reported $178 billion in cash. The technology behemoth that is one of the most valuable companies in the world, not to mention the largest tech company on the planet, has just a bit more cash on hand that what America wastes every year. The United States Census Bureau shows America's population to be approximately 322 million; and that means each American is letting approximately $403.73 slip right through their fingers. We are talking about a huge sum of money and a massive amount of wasted energy. When you don't turn off a light or replace an appliance with a more energy efficient one, you don't really think how the small change plays out in the larger scheme of things, but I guarantee that every small step you take to make your home more energy efficient results in a huge, positive change in your wallet and for our planet."
You can be part of the change that is sweeping the nation. Start by visiting 99Smarthomes.com today to see their energy-saving infographic. Then use those small steps to make a very big difference. Share the savings by using the code provided on the site to post the infographic on your webpage or on social media.
"Every change, even small ones like simply replacing incandescent light bulbs with LEDs, make our planet a better, brighter place," concludes Smith.
99Smarthomes.com makes it easy for you to learn about energy-efficient products for your kitchen and your home by providing detailed product reviews and direct product access on Amazon.
About Us
99Smarthomes.com reviews products for your home so you can make smart, informed purchases. The site also provides infographics and blogs designed to make your home more energy efficient, stylish, and comfortable.
Source: 99SmartHomes.com