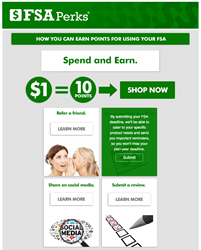 The goal of the FSA Perks™ program is to ensure customers maximize their FSA dollars during the year, while earning rewards in the process. - Ujjwal Dhoot, Chief Marketing Officer of FSAstore.com
Santa Clara, CA (PRWEB) November 02, 2015
ShopSocially, leading provider of social, referral and loyalty solutions for online marketers, assists FSAstore.com, a leading e-commerce site stocked exclusively with Flexible Spending Account (FSA)-eligible products and services, in launching its FSA rewards program. Powered by ShopSocially, the program aims at offering loyalty awards to customers not just for purchases, but for all-round engagement.
Acquiring a new customer is only the first step. Converting the customer into a loyal, repeat customer is a challenge for most marketers. Traditional loyalty programs offer points and discounts to customers on just purchases. Often these programs fail to engage the customer and with time the customer's engagement level with the brand reduces.
ShopSocially's social loyalty program is a modern-day, 360 degree loyalty program that awards points to customers not just for purchases, but for non-purchase actions such as referring a friend, writing reviews, uploading a photo, subscribing to emails, connecting via Facebook, following on Instagram etc. Through higher engagement, this program can increase the lifetime value of a customer by 5X. ShopSocially's customer loyalty program leads to a 26% uplift in repeat purchases and get an average of 24% year over year sales lift.
FSAstore.com has deployed ShopSocially's customer loyalty program to enable its customers to earn points through site referrals, sharing content on their social media networks, subscribing to emails, encouraging reviews etc. Through these site interactions, customers gain points that enables them to redeem exclusive discounts to shop for FSA-eligible products online.
"We wanted to create a loyalty program that rewards our customers for being more responsible and engaged with their Flexible Spending Accounts," said Ujjwal Dhoot, Chief Marketing Officer of FSAstore.com. "The goal of the FSA Perks™ program is to ensure customers maximize their FSA dollars during the year, while earning rewards in the process."
ShopSocially's loyalty program provides customers with an intuitive dashboard. Customers can login into their personalized dashboard to check points earned for each interaction and to redeem points in exchange for store credit, gift cards, exclusive offers and discounts. Marketers can further improve the loyalty experience by setting different program levels in the merchant center.
"Loyalty programs have proven to be very effective in ensuring repeat business. However, traditional loyalty programs are expensive to implement, take months of effort and typically only reward customers for purchase transactions. ShopSocially's modern day customer loyalty program rewards customers for any desirable behaviour on the website." commented Samir Palnitkar, President at ShopSocially. "We are excited to be a part of FSA Store's newly launched FSA Perks™ Program."
About FSAstore.com
FSAstore.com was founded to make it simple and convenient to spend, manage, and use an FSA. FSAstore.com is the only e-commerce site stocked exclusively with FSA eligible products, eliminating any and all guesswork as to what is and is not FSA eligible. In addition to the 6,000 eligible products available, the site offers educational resources for FSA holders, including the most comprehensive Eligibility List in the industry and a Learning Center with answers to the most common FSA questions. FSAstore.com accepts all FSA and major credit cards, offers 24/7 customer service, two-day turnaround for all orders and free shipping on orders $50+ in the continental US .
About ShopSocially
ShopSocially is a premium, social, referral and loyalty platform for marketers. Leading brands like Zazzle, ULTA, Beretta, Dressbarn, Avenue etc. are using the ShopSocially platform to enable referral marketing, visual commerce, customer loyalty, social login, social gamification and other such programs on their site.
ShopSocially has been consistently driving word-of-mouth promotions via social for 1000s of brands and delivering positive ROI for their social media efforts. ShopSocially has won several awards and
has also been featured by Facebook in a Social Commerce case study.
Launched in Oct 2010, ShopSocially is a privately held company in Santa Clara, CA. For contact information, please visit http://shopsocially.com/platform/request-a-demo.html.