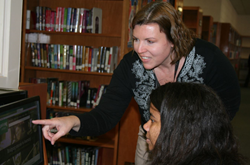 21st century methods to empower students to become awesome readers and writers. Love it.--John Pappas, Weymouth High School, Weymouth, MA
Grand Rapids, MI (PRWEB) October 29, 2015
Today, in answer to the continued lack of progress in student reading skills, AwesomeStories - partner to educators and students - offers not only its Free Archive of 4,000 topical stories embedded with 100,000 primary sources, but also four online video tutorials by trial attorney/founder, Carole Bos. The tutorials are intended to transform reading into exploration: "Investigating a Story with Evidence," "How to Find a Great Story," "Be a Super Sleuth" and "Cite Right."
When reading involves compelling topics, is relevant and contains instant links to proof and related topics, students can explore in their own way, as they use media. AwesomeStories' Archive of evidence-based stories engage students and make reading a deep, engaging, exciting, explorative activity.
AwesomeStories responds to the needs of today's students with information that feels real, current and relevant to them. Giving them videos to watch, or fiction to read, does not truly engage them in active thinking and exploring and does not meet new national assessments or common core standards. Instead, AwesomeStories provides more: an easily searchable archive to surprising and rich stories that show the relation of history, current events, theories of science and/or literature to each learner's life.
Pamela Childs - the Media Specialist at Albert Hill Middle School in Richmond, VA - described reading an Awesome Story like this: "I feel like I am THERE, not just a bystander or spectator. AwesomeStories make it real."
"Weaving primary source material into my student's learning is my secret weapon. Everyone loves a good story and when I can incorporate it into my teaching, it is the 'hook' that keeps them wanting to go further and investigate more. When did a student ever finish a chapter in their textbook and ask: 'Can I have more, please?'" says Mary Ann Riendeau, History Teacher, Eagle Hill School in Hardwick, MA.
Overwhelming response from teachers and students to AwesomeStories' approach to building stories inspired trial attorney and founder, Carole D. Bos J.D, to reveal her methods. A series of four free video tutorials arm teachers and students with the knowledge and tools to employ evidence-based story-making in their own work.
Carole Bos' winning case strategies led to the development of the AwesomeStories model, as shown in the archive and in the online video series, which coach students to develop story-finding radar, to sleuth sources and to cite rightly.
"When I look at a case, I look first at the totality, and evaluate the questions and twists. What will get the thrust of the case across and engage the diverse jury members while also gaining respect from the judge? Then, what is the evidence for each of these angles, and which are the strongest in interest and evidence?" This trial research and construction-of-case story path is the model for over 4,000 AwesomeStories guides, now growing in number by the new stories created by member teachers, students and lifelong learners.
Students like solving mysteries, especially if they are real. So presenting stories from history, current events, scientific theories, movies and literature - side by side with the real facts, the news clips, the radio-sound files, the actual documents (all the while letting students see it, read it, explore the background following their own interests) - makes reading dynamic, real and informative. And there is the satisfaction of doing it, in your own order, exploring tangents as you wish and showing your skills - like in a video game.
The four video tutorials are available online in the AwesomeStories101 course/story, on YouTube and Vimeo in the AwesomeStories channels.
AwesomeStories welcomes collaborations with districts, schools, teachers, homeschool parents and students of all ages. Sign Up online or email membership(at)awesomestories(dot)org.
AwesomeStories, a trusted partner to teachers, media specialists and students since 1999, delivers its AwesomeStories Free Archive of over 4,000 fascinating stories linked to over 100,000 primary sources spanning subjects and levels to learners around the world. With 6.5 million+ pageviews a year, and 35,000 members, it is growing daily. Now AwesomeStories offers premium memberships to its premium applications, AwesomeStoryMaker, AssignmentMaker and the MakerSpace for the Humanities. Awesome Stories has won accolades over the years, most recently being named a 2015 CODIE Finalist in the Social Studies Solution category.