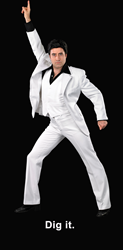 ..a couple years ago I saw pictures of the real John Travolta crashing a wedding and taking pictures with the entire wedding party and I thought... Wow what a cool idea for a wedding"
Los Angeles, Ca (PRWEB) October 29, 2015
TravoltaLookAlike.Com today announced that they will expand services for weddings and special events by offering wedding crasher services by John Travolta Look Alike, Mr. Travolta...aka Mr. Anderson.
"I've appeared all over the world as John Travolta at private parties, employee parties, casinos and even with real celebs" said Anderson. "...I read an article and saw pictures of the real John Travolta crashing a wedding and taking pictures with the entire wedding party and thought... Wow, after all the shows I've done I've never thought of that...people getting married could have so much fun"
TravoltaLookAlike.Com offers Disco "Saturday Night Fever", "Pulp Fiction" and "Grease" themes and with this new service, wedding and event planners will have a really cool and unique idea to show clients who are looking to do something a little different for their special day.
Duration of appearances could be from a couple minutes up to a couple hours and services range from photo ops with the wedding party to creating teaser videos leading up to the big day and can even include busting out some Travolta disco dance moves on the floor after the nuptials.
"Couples and wedding planners could have a blast with this". Anderson went on to say, "We envision couples using this service to create video announcements or teasers for the wedding and then the day of the big event they could get the entire wedding parties posing in the classic disco pose with their fingers in the air and then "Travolta" could teach a line dance at the reception after performing some moves straight out of the movie".
TravoltaLookAllike.Com will start by offering appearances by Travolta Look-Alikes and expand from there per client requests.
"We have no idea where this service will take us but we can't wait to see the events that come out of this," concluded Anderson.
About TravoltaLookAlike.Com
TravoltaLookAlike.Com is based in Los Angeles and has performed all over the world from Bangkok to Tel Aviv. Worked tons of corporate events all over the US, performed on the best stages in the top casinos in Las Vegas and has even had the pleasure of meeting and performing for real celebs such as Brad Pitt, Jennifer Aniston, Courtney Cox and David Spade.