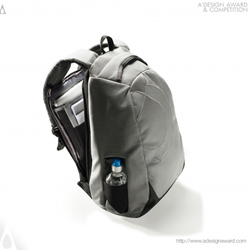 Como, Italy (PRWEB) October 29, 2015
A' Design Award and Competition is pleased to inform that the backpack design project RiutBag by Sarah Giblin has been announced as a winner of the Golden A' Design Award in Fashion and Travel Accessories Design Competition Category. In 2015, The Fashion and Travel Accessories Design Competition attracted over thousand entries from across the globe.
More on RiutBag - What Makes it Secure and Different:
Sarah Giblin, the project leader of the awarded Accessory design RiutBag said, "When you wear a conventional rucksack, the person behind you can access it more easily than you. That's unnerving in increasingly densely populated cities. The RiutBag has no outer zips for safe, calm city travel; the two zips are comfortably against your back. No possibility of entry by others, no need to check your zips. It allows you, the urban rucksack user, to travel around cities calmly and confidently to work and on holiday." Learn more: https://competition.adesignaward.com/design.php?ID=38124
Creative Team for RiutBag
RiutBag was realized by Designer and Riut founder: Sarah Giblin
The Golden A' Design Award
The Golden A' Design Award is a prestigious award given to top 3% percentile designs that has attained an exemplary level of greatness in design. The fashion design entries are judged by a expert jury panel composed of academics, design professional and press members. The designs are evaluated with score normalization to remove any biases and are voted on aspects such as functionality, ergonomics, engineering, presentation, innovation, usability, fun details, technology, and any other specific points that could be considered, each of these points are further weighted for different jury groups. Laureates of the A' Design Awards are granted the coveted A' Design Prize which includes a series of services to promote the award winning works.
About A' Design Award and Competition
The International A' Design Award and Competition was established in 2009 in order to create a global awareness for good design practices and principles by promoting excellent design work in all categories from all countries. The ultimate aim of the competition is to push forward designers and companies worldwide to come up with superior projects that benefit society. Learn more and discover the A' Design Awards at http://www.designaward.com