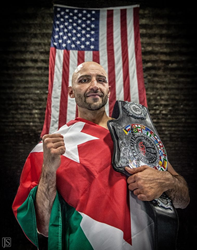 "I decided to rekindle my career and claim what was mine... a world title."
Lockport, NY (PRWEB) October 29, 2015
Amer Abdallah, the current No. 2 ranked cruiserweight in the world, will finally get what he's wanted since he first laced up his gloves as a child — a shot at the Championship of the World. With a current record of 16-0 and having claimed the World Kickboxing Association's Intercontinental and United States titles, Abdallah has earned his opportunity as the No. 1 contender for the world title.
Lace Up Promotions has won the bid for the fight and have decided to host it in Abdallah's hometown of Lockport, New York.
"I could have had this fight realistically anywhere in the world, but I wanted to do it where my career began and in front of my fans who have been with me since day one," Abdallah said.
At 38 years old, it seems as if the veteran kickboxing champion may have had his shot late in life, but he sees it differently.
"I voluntarily took time off in the middle of my career to launch a few of my businesses and train my fighters. I wanted to build an empire to secure a good lifestyle for my family while also giving my fighters a chance to shine. I could have stuck to my professional fighting career and won the world title in my 20s. But I had a different mindset," he said.
Abdallah opened his own boxing and kickboxing club in 1998 and trained numerous champions through 2005.
"After establishing my businesses and seeing many of my fighters move on to other ventures, I decided to rekindle my career and claim what was mine... a world title," Abdallah said.
Lace Up Promotions was one of his business ideas and has proudly promoted championship boxing and kickboxing events in Western New York, Rochester, Syracuse, Rhode Island and Connecticut for more than 15 years. Abdallah's promotion company will do what has never been done before in the region — promote the first-ever world title fight featuring a local fighter right in Western New York.
"It's an amazing opportunity and one that I've always dreamed of," Abdallah said.
Abdallah will face the reigning champion of the world, Gareth Richards of Wales, United Kingdom on Nov. 21 in the Kenan Center Arena in Lockport, NY. Richards has held the title for the past two years and is looking forward to defending his crown in the United States.
The Team Abdallah training camp is currently set in Las Vegas, Nev. under the supervision of two-time world kickboxing champion Dewey Cooper and world-renowned boxing trainer Jeff Mayweather at the Mayweather Boxing Club.
For more information and to follow Lace Up Promotions, follow them on Facebook at Lace Up Promotions or on their website at http://www.LaceUpPromotions.com.