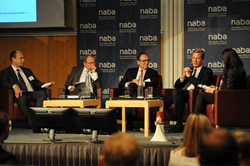 Due to its great success, the Norwegian-African Business Summit has now become the Nordic-African Business Summit
29 October 2015, Oslo (PRWEB UK) 29 October 2015
The African continent hosts the world's youngest, fastest growing urban population, and Africa's economy must facilitate rapid growth and change in the coming years. This is why "Nordic competence linked to African opportunities" is the main theme at this year's Nordic-African Business Summit.
"Norway is committed to build further trade relations with the African continent. The Nordic-African Business Summit is one of the initiatives that helps Nordic industries navigate the new investment landscape in African countries," says Monica Mæland, Norwegian Minister of Trade and Industry.
"In 2010, the Norway-African Business Summit started with a simple idea: if we brought African and Norwegian business leaders together to share experiences, knowledge would increase, investments would accelerate and jobs would be created. Today, in its fifth consecutive year, the biggest Nordic-African Business Summit hosts 400 participants from the Nordic and African markets. Due to its great success, the Norwegian-African Business Summit has now become the Nordic-African Business Summit," says Eivind Fjeldstad, Managing Director of NABA.
"NABA has since its establishment in 2011 become an important, vibrant and influential meeting place for Norwegian companies and other stakeholders committed to doing business in Africa. To Yara, NABA has provided a valuable meeting place from which we could build on our partnership approach to finding solutions in our African engagement. The drive and energy of the NABA team has helped set the stage and created a great forum where we together can advance the promotion of more and better business in Africa," says Øystein Botillen, Manager Global Initiatives, Yara and NABA Chairperson.
Monica Mæland, Norwegian Minister of Trade and Industry; Ashish Thakkar, CEO, Mara Group; Bob Diamond, CEO, Atlas Merchant Capital; and Jaakko Kangasniem, Managing Director, Finnfund; were among the distinguished guests who participated in this day-long forum hosted by the Norwegian-African Business Association (NABA).