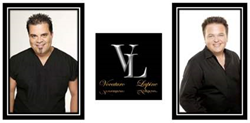 Scotch Plains, NJ (PRWEB) October 29, 2015
Drs. Vocaturo and Lapine were initially reviewed and approved in 2011, it is their fourth year being recognized as "NJ Top Dentists"!
The Cosmetic and Wellness Center of New Jersey is the premier cosmetic dentist practice in Bayonne, NJ. They offer a wide variety of dental services to patients from across Jersey City, Hoboken, and New York. You can count on a confident and knowledgeable dentist at their office to keep your smile healthy and beautiful with the following services:
Teeth Whitening
Veneers
Cosmetic Dentistry
Dental Implants
Invisalign
Dentures
They're renowned for their cosmetic and restorative dentistry treatments, which draw celebrity clientele. Above are some of their more popular procedures that they are recognized for by their clients nationwide. In addition to their popular cosmetic dentistry treatments they offer, they also provide general dentistry services for clients who are looking to maintain their dental health or improve it. They believe that prevention is the key to having a lifetime of good dental health and their dental technologies as well as their treatments reflect their philosophy.
Dr. Vocaturo and Dr. Lapine use advanced computer imaging and digital photography for their patients to view the results of their cosmetic dentistry options and choices before the procedure begins. Diagnodent® is another advanced technology used at the center which enables the dentists to find cavities before patients feel them. Laser dentistry is also available for patients who are suffering from tooth decay, gum disease, biopsy or lesion removal and teeth whitening. This procedure replaces the traditional laser drill and anesthesia shot and lessens or eliminates the pain and discomfort for many dental procedures.
"What has made our practice so successful is our commitment to excellence. We strive for perfection in every aspect of our treatment on patients. We put a very high demand on constant desire to be the best. We over exceed our state requirements for continual education on procedures, materials, and technology. Our office is a vibrant atmosphere every day. It is a place that our patients love to visit."
– Dr. Anthony Vocaturo
"We take great pride in setting the highest standards of care and then delivering that care to our patients. The exciting world of dentistry is always evolving and we help motivate that evolution through constant continuing education and the latest technological advances. Treating every patient like a celebrity is the secret to making our jobs fun. "
– Dr. Donald Lapine
Cosmetic & Restorative Dentistry is a branch of medicine that is performed to improve the facial appeal, smile, and beauty of the denture in a person. Cosmetic and Restorative dentists focus on altering existing dental arrangements and features of a patient to increase their aesthetic appeal. Implant dentistry corrects misalignments in teeth, improves the appearance of the jaw region and structure. Results of cosmetic dentistry procedures are not only visually appealing, but commonly affect the general well-being of a patient positively.
Cosmetic & Wellness Center of New Jersey has extensive experience in the treatment of:

Extreme Smile Makeover
Bonding and Veneers
Laser Dentistry
Tooth Whitening
Invisalign®
Dental Implants
Crowns
Dentures
Tooth Colored Fillings
TMJ Treatments
Preventative Exams and Cleanings
Cosmetic & Wellness Center of New Jersey is conveniently located in Bayonne, New Jersey. For more information please visit Cosmetic Dentistry and Wellness Center's full profile at:
http://www.njtopdocs.com/CosmeticandWellnessCenterNewJersey
About Us
NJTopDocs.com is a comprehensive information resource of Top Doctors, Dentists and Hospitals. We are profiling over 900 Healthcare Providers and have made it convenient for you to find them.
NJTopDocs.com allows patients to "meet" these providers online before making their appointment.
For more information, e-mail us at info(at)NJTopDocs(dot)com and/or visit http://www.NJTopDocs.com.
You can also follow us on Facebook – Twitter – YouTube