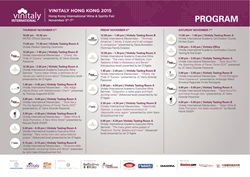 An increase in local wine production on the other hand will also greatly benefit Italian wine imports
Hong Kong (PRWEB) October 29, 2015
As Chinese wine consumption is in constant growth also as a result of the strong increase in domestic wine production, Vinitaly International is getting ready for the sixth edition of Vinitaly Hong Kong by doubling the number of its educational initiatives in order to attract local and Chinese consumers: 2 tasting rooms will be presenting a choice of 13 Masterclasses and 5 VIA Executive Wine Seminars that will offer attendees a clearer insight into the great diversity and uniqueness of Italian wine.
Hong Kong remains today a very important wine market for Italian wine producers acting as a fast track to Mainland China thanks to the removal, back in February 2008, of all duty-related customs and administrative controls. As a consequence, Hong Kong's wine imports have expanded fast in the last few years registering a +5.1% rebound in 2014 for a total value of 8,436 HK$mn (SOURCE: HKTDC, 27 February 2015, http://tinyurl.com/o7tndho). While most of the imported wines originate from European countries such as France and the United Kingdom, there has also been a significant share coming from Australia, the US and, in particular, China. Chinese wines in Hong Kong registered a surprising +900% increase in 2014 compared with the previous year thus testifying the substantial growth of China's domestic wine production.
"Often Italian wine producers fear local Chinese wine production will lessen even more the likelihood of increasing interest in venturing into even trying Italian wines" says Stevie Kim, Managing Director of Vinitaly International. "An increase in local wine production on the other hand will also greatly benefit Italian wine imports by generating amongst wine consumers a more thorough understanding of wine in general as well as the need to try something new". Italy, that recently took over from France the primate as the world's largest wine producer (SOURCE: International Business Times, 7 October 2015, http://www.ibtimes.co.uk/italy-beats-france-become-world-largest-wine-producer-1522907), has both the numbers and the variety to win the attention of local wine consumers. It's mostly a question of having a clear understanding of what there is on offer: no mean feat when faced by Italy's 541 grape varietals. The keyword, therefore, once again remains "education", and Hong Kong's status as the main trading and distribution centre for the region makes it a good place to create an educational environment.
In the face of this, Vinitaly International has taken on the challenge by doubling the number of its tasting rooms during Vinitaly Hong Kong with the aim of offering attendees an even richer and more comprehensive program of educational initiatives: Chinese trade and press will be able to pick from a choice of 13 Masterclasses entirely focused on Italian wine and hosted by Consorzio Vino Chianti, Vini Alto Adige, Italian Wine & Stile Promotion, Consorzio Tutela Vini Valpolicella, Tommasi Family Estates, Enoteca Regionale Emilia Romagna and Grande Passione.
Throughout the three days, Vinitaly International's educational mission will be further enriched by five Vinitaly International Academy (VIA) Executive Wine Seminars held by Scientific Director Ian D'Agata. The seminars will range from introductory to advanced in order to cover all levels of wine knowledge: the former will allow attendees to gain "a greater insight into the general characteristics of some of Italy's greatest wines" explains Doctor D'Agata, while the latter will focus on specific and in-depth analyses. "Rare wines from rare native Marche grapes", as suggested by the title, will showcase the strengths of little known varieties from Marche, while "Grignolino: a noble grape and fresh exciting wines" will present one of Italy's most underrated grape varieties and its wines, that in the words of Doctor D'Agata are "absolutely delicious". Unfortunately Grignolino can rarely be tasted abroad. hence foreigners have a hard time understanding and getting to know what it is about. "This is why I am very happy to be able to present many outstanding Grignolino wines to Hong Kong wine professionals" he adds, "so as to perhaps help them appreciate the many charms of this grape varietal and its marvellous wines". A second advanced VIA Executive Wine Seminar will shed some light on lesser known grapes from Piedmont: "The many great native grapes of Piedmont: Ruché, Barbera and more!" will prove that Piedmont is not just home to Barolo and Barbaresco, two of Italy's best known wines, but also to many other wonderful grapes and wines, such as Ruché, Dolcetto, Freisa and Barbera.
For the first time, Ian D'Agata will be supported during his Seminars by the first VIA Italian Wine Ambassadors (IWA) from Hong Kong to have passed the exam back in March on the occasion of the first edition of the VIA Certification Course. On the last day of the trade fair, there will also be a re-sit of the exam for all candidates wishing to get a second chance at becoming an Ambassador or Italian Wine Expert (IWE).
The educational sessions will be once again accompanied by a traditional Walk Around Tasting counting, this year, a record number of some 150 exhibitors, 134 Italian wine producers and more than 800 labels within a 1000+ sqm area. "The presence of such a large number of exhibitors under the Vinitaly Umbrella represents a very positive sign of continuity with the past editions that can be read as a strong tentative step of Italian wine producers towards a more coordinated action in the promotion of Italian wines in the Chinese market" says Stevie Kim.
As for the previous editions, every day the Vinitaly Lounge will offer all attendees the opportunity to taste Italian food, sip a cup of good coffee or experience a traditional Italian Aperitivo in collaboration with Fabbri 1905 and ItalMenu.
The lounge program will also include a series of meetings and interviews organized together with with media partners Vinehoo, Wines-info and Wine in China.
For more information about the event please go to: http://www.vinitalyinternational.com/events/hongkong2015
You can register to the masterclasses by following the below links:
Day one (5th November) - http://www.eventbrite.it/e/vinitaly-hong-kong-2015-masterclasses-day-1-t...
Day two (6th November) - http://www.eventbrite.it/e/vinitaly-hong-kong-2015-masterclasses-day-2-t...
Day three (7th November) - http://www.eventbrite.it/e/vinitaly-hong-kong-2015-masterclasses-day-3-t...
To attend the VIA Executive Wine Seminars please write to: china(at)vinitalytour(dot)com
About:
Veronafiere is the leading organizer of trade shows in Italy including Vinitaly (http://www.vinitaly.com), the largest wine and spirits fair in the world. During its 49th edition Vinitaly counted some 4.000 exhibitors on a 100.000 square meter area and 150.000 visitors including more than 2.600 journalists from 46 different countries. The next edition of the fair will take place on 10 - 13 April 2016.
The premier event to Vinitaly, OperaWine (http://www.vinitalyinternational.com) "Finest Italian Wines: 100 Great Producers," will unite international wine professionals on April 9th in the heart of Verona, offering them the unique opportunity to discover and taste the wines of the 100 Best Italian Producers, as selected by Wine Spectator. Since 1998 Vinitaly International travels to several countries such as Russia, China, USA and Hong Kong thanks to its strategic arm abroad, Vinitaly International. In February 2014 Vinitaly International launched an educational project, the Vinitaly International Academy (VIA) with the aim of divulging and broadcasting the excellence and diversity of Italian wine around the globe. VIA has now also created its very first Certification Course with the aim of creating new Ambassadors of Italian Wine in the World.
###