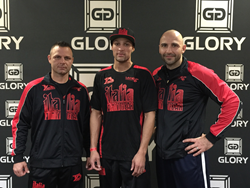 "We are here at Glory for one reason... to win the world title."
Lockport, NY (PRWEB) October 29, 2015
Syracuse native Kevin VanNostrand is no stranger to the spotlight. Having built an impressive amateur record of more than 20 fights with only one defeat at the age of 14, VanNostrand turned to the professional ranks and is amongst the nation's top superstars. With a current professional Muay Thai record of 11-0 (8 by knockout), VanNostrand is the No. 1 ranked fighter in his weight class by the World Kickboxing Association.
After a dominating performance on Sept. 26 in Syracuse where he stopped Canadian fighter Ben Pride by a second round knockout, VanNostrand planned to take the rest of the year off. That was until the largest kickboxing promotion in the world contacted his promoter, Amer Abdallah of Lace Up Promotions, for an offer.
"The matchmaker for Glory had contacted me and informed me of an opportunity at 143 lbs. for Kevin as the scheduled fighter pulled out," Abdallah said. "I called Kevin's trainer Jim Andrello and ran it by him first."
Abdallah wasn't surprised that Andrello, VanNostrand's longtime trainer, was all in.
"All he wanted to know was the date and the name of the opponent." Abdallah said.
VanNostrand didn't need to be persuaded either as he and his manager Chelsea Chartowick were on board. Team VanNostrand had less than two weeks to prepare for a televised Glory show where they needed a great performance.
"We knew that Kevin had to do what he's known for... get a knockout. The challenge we faced was a double-sided sword. Not only did we have 10 days to prepare, but it was in Denver, where it's difficult to breathe," Abdallah said.
Andrello and VanNostrand flew from Syracuse to Denver two days before the fight, and Abdallah, who was in training camp for his own world title fight, left Las Vegas to meet the duo in Denver as well.
VanNostrand faced tough Bellator veteran Justin Houghton on the Super-Fight Series, aired on CBS Sports nationally and internationally in 93 countries. VanNostrand dominated all three rounds, but could not quite finish Houghton in the manner he wanted to.
"The elevation really got to me," VanNostrand said. "I'm happy with the win, and I'm going back to the gym to focus on our goal. We are here at Glory for one reason... to win the world title."
VanNostrand will take the rest of 2015 off and be back in action in early 2016.
"We have several offers now for Kevin to get matched," Abdallah said. "We want the best fights for him and to take a step closer to a world title."
For more information and to follow Lace Up Promotions, follow them on Facebook at Lace Up Promotions or on their website at http://www.LaceUpPromotions.com.