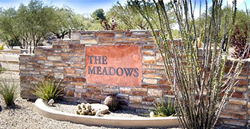 "I look forward to working with Kyle as we explore and execute on new ways of providing high quality services to our patients while remaining sensitive to the increasing demands for thoughtful, efficient delivery and outcomes." - Jim Dredge, CEO
Wickenburg, AZ (PRWEB) October 30, 2015
Meadows Behavioral Healthcare, the most trusted name in trauma, addiction, and eating disorder treatment, is pleased to announce that Kyle Wescoat has joined the company as its new Chief Financial Officer. He replaces Rick Flaherty who is retiring.
Wescoat comes to the Meadows with more than 25 years of CFO experience in a variety of well-regarded public and private companies, including Emulex, VIZIO and Vans. He also has previous experience in the field of behavioral health as the former Executive Vice President and CFO of Aspen Education Group. Wescoat received his undergraduate degree from Drexel University and MBA in Finance from the University of Michigan.
"Kyle has proven himself to be a tremendous CFO and organizational leader in a variety of settings. He brings with him a remarkable set of skills and experiences that I believe will benefit the Meadows as we continue to grow and evolve in the rapidly changing behavioral health environment," says Meadows Behavioral Health CEO Jim Dredge. "I look forward to working with Kyle as we explore and execute on new ways of providing high quality services to our patients while remaining sensitive to the increasing demands for thoughtful, efficient delivery and outcomes."
Wescoat is also active in his community. He has maintained a long time involvement with the Big Brothers Big Sisters of Orange County, California, and Hoag Hospital Presbyterian. He serves as Chairman of Hoag Irvine's Executive Advisory Board, and on the President's Advisory Council at Drexel University.
"I want to thank Jim and the Board for giving me this opportunity to join the Meadows at this exciting time in its history," Wescoat says. "For more than 25 years, The Meadows and Remuda Ranch have been synonymous with the highest level of patient care and innovation. It is our goal to continue to lead the industry in not only the services provided, but how they are provided, as well."
Dredge added, "I want to thank Rick Flaherty for his hard work and contribution to Meadows Behavioral Healthcare. I wish him the very best."
ABOUT MEADOWS BEHAVIORAL HEALTHCARE
Meadows Behavioral Healthcare is industry leader in providing treatment for people struggling with trauma, addiction, eating disorders, and related mental health conditions. Our programs—The Meadows, The Claudia Black Young Adult Center at The Meadows, Gentle Path at The Meadows, Remuda Ranch at The Meadows, The Meadows Outpatient Center, and our series of intensive workshops—are the premier choice of patients, families, and behavioral health professionals. We change lives through The Meadows Model, 12-step practices, and holistic healing of mind, body, and spirit. To learn more about The Meadows contact us at 800-244-4949 or visit http://www.themeadows.com.