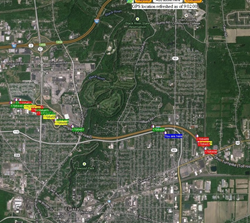 The iiCollector is a mobile web-app tool powered with an analytic decision module and intelligent integration capability to perform geo-hazard risk analysis.
Columbus, Ohio (PRWEB) November 02, 2015
Using mobile technology developed by Resource International, Inc. (Rii), engineers can assess and flag dangerous landslides and geo-hazards earlier than ever before, which currently account for up to $2 billion in damages annually across the nation.
The presence and /or the occurrence of geological hazards such as landslides, rockslides or rock falls has significant impact on the planning, design construction and maintenance of our infrastructure. It is of great concern not only in Ohio but also nationally, and globally.
Landslides and rock falls impact the safety of the travelling public; increase cost of maintenance and remediation to the infrastructure; increase costs due of delay and inconvenience; and incur property damages in the roadway. The relative significance of these risks requires an effective resource for managing the safety of Geo-Hazards and slope stability analysis.
The iiCollector is a mobile web-app tool powered with an analytic decision module and intelligent integration capability to perform geo-hazard risk analysis and translate the field data into a hazard severity index. The geo-hazard risk analysis procedure was developed by the Ohio Department of Transportation (ODOT) as a part of the development of a comprehensive Geological Hazard Management System (GHMS), and documented by the office of Geotechnical Engineering.
The iiCollector utilizes the geo-hazard rating matrix to determine the severity of landslide as the data is being collected by the engineers in the field. The decision for the intelligent integration module capability allows the iiCollector to perform an instantaneous risk analysis using the matrix and ratings for the six hazard indicators. The results of risk analysis and the potential for the landslide could be shared in real-time, which would alert office personnel of potential risks.
The geo-hazard rating indicates if landslides are measured higher than 250 they are tagged as high-risk. It is critical that this information is shared in real-time with engineers and professionals as soon as possible. The field personnel also have real-time access to relevant specification and design guidelines as may be needed in the field.
Landslides, rockslides and rock falls always are accompanied by damages varying in severity to the roadway, right of way and roadside features. With real-time access to relevant maintenance and design manuals, field and office staff can use this tool to prioritize repairs, document current conditions or even document accidents. The location information can be integrated in GIS format into maps and design files.
In addition to landslides and geo-hazards, the iiCollector web-app allows technicians to collect the condition and severity of damage to other roadway assets such as guardrail, shoulder, pavement and pavement drop offs at the same time if necessary. Any standard form can be loaded into the software to make routine inspection documentation faster and easier. The web-app could also be used to inventory geological hazards; establish routine monitoring schedules; provide a methodology for geological hazards risk assessment; prioritize risks to support decision-maker actions; ability to access historical data; make information available to various user group.
Most recently, Rii's innovative mobile data collection software has been used to evaluate the landslide potentials and geo-hazards risks in three Ohio Turnpike reconstruction projects. The web-app geo-tagged and color coded the location of these geo-hazards in the field, creating detailed maps, reports and additional output.
It is important to also note that the iiCollector technology has received the International Road Federation's (IRF) Global Road Achievement Award, GRAA, in the area of technology. At the 2015 Ohio Transportation Engineering Conference (OTEC), Dr. Nikhil Khedekar, Vice President of Engineering and Planning and Bernard Schubach, Senior Software Engineer at Rii presented the Ohio Turnpike case study which used mobile web-app technology to evaluate the risks and severity of geo-hazards, landslides and rock falls.
About Resource International, Inc.
Resource International, Inc. (Rii) is a broad-based, multi-disciplined professional engineering consulting firm specializing in construction management, information technology and planning and design of building and infrastructure projects valued in excess of $1 billion annually.
This family-run business has evolved over the years to assist public and private clients in finding optimum solutions to improve their environment and infrastructure. Our specialized equipment, technology and resources offer the best solutions.
Companywide, Rii has a vast pool of employees engaged in transportation planning, design, and construction services. Rii's Corporate Office is located in Columbus, Ohio, with full-service branch offices in Cleveland and Cincinnati, Ohio; Pittsburgh, Pennsylvania; and Indianapolis, Indiana.