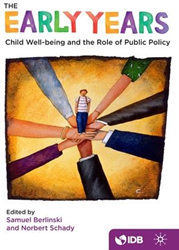 Development in early childhood casts a long shadow all the way into adulthood, said Norbert Schady, the principal economic advisor to the IDB's social sector and one of the study's lead editors.
Washington, DC (PRWEB) October 30, 2015
Better investments in early childhood programs could yield big development dividends but many programs in Latin America and the Caribbean are underfunded and fail to focus on quality, according to a new report released today by the Inter-American Development Bank (IDB).
For every dollar spent on a child 5 and under, more than three dollars are spent on a child between the ages of 6 and 11, according to the study The Early Years: Child Well-Being and the Role of Public Policy, part of the IDB's flagship Development in the Americas series.
However, the book urges more than an increase in spending in the early years. Governments need to rethink how and when they intervene in early childhood development, emphasizing more programs that improve the quality of interactions between adults – parents, teachers, daycare workers – and young children rather than focusing on building infrastructure.
Press Contact
Pablo Bachelet
(202) 623-1328
pbachelet(at)iadb(dot)org