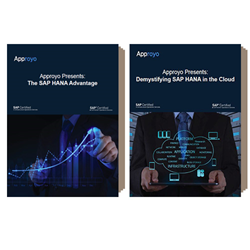 Palo Alto, CA (PRWEB) October 29, 2015
Approyo, a leading enterprise SAP HANA Solutions Provider, recently published two new whitepapers, Demystifying SAP HANA in the Cloud and Advantages of SAP HANA.
The new whitepaper series focuses on dispelling certain myths that are associated with SAP HANA, In-memory computing and cloud computing. In addition, the series highlights the differences between SAP HANA and traditional database systems.
"SAP HANA still has some common misconceptions in the marketplace, especially when it comes to how SAP HANA works in the clouds and how it is different from traditional databases" said Marcus Retrac, President of Approyo. "With our state of the art cloud environment, we want to easily communicate how SAP HANA in the cloud and Approyo can help companies reduce IT complexity and costs."
SAP HANA is an in-memory computing platform that has completely transformed the relational database industry. It combines database, application processing, and integration services on a single platform. The same architecture also provides libraries for predictive, planning, text processing, spatial, and business analytics.
The new whitepapers from Approyo, are available for download at:

About Approyo
Approyo is a global SAP HANA start up focus partner for products and services that include upgrades, comprehensive remote operations/managed services, consulting, hosting and implementations and cloud services. Approyo differentiates itself by offering scalable managed SAP HANA solutions for organizations of all size. Headquartered in Palo Alto, CA with partner offices around the world, Approyo has the capability to support global organizations and their applications.
For additional information e-mail us at info(at)Approyo(dot)com or call 404.448.1166.
SAP, SAP HANA and other SAP products and services mentioned herein as well as their respective logos are trademarks or registered trademarks of SAP SE (or an SAP affiliate company) in Germany and other countries. See http://www.sap.com/corporate-en/legal/copyright/index.epx for additional trademark information and notices. All other product and service names mentioned are the trademarks of their respective companies.