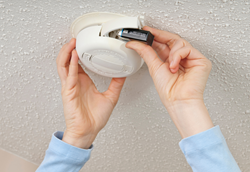 LINCOLN, R.I. (PRWEB) October 29, 2015
Daylight Saving Time ends on Sunday, Nov. 1, and, in addition to turning back the clocks, Amica Insurance suggests changing batteries in smoke alarms.
According to the National Fire Protection Association (NFPA), almost two-thirds of home fire deaths occur in homes with either no smoke alarms or homes where smoke alarms aren't working. That's why it's important to have alarms that are properly installed and stocked with fresh batteries.
Amica is also sharing the following tips from the NFPA regarding smoke alarms:

Install alarms in every bedroom, outside each sleeping area and on every floor, including the basement. Since smoke rises, alarms should be placed high on a wall or on the ceiling.
Alarms should be tested once a month to make sure they're working correctly.
Replace the batteries at least once a year. If an alarm alerts you that the battery is low, possibly with a chirping noise, it should be replaced immediately.
Replace alarms every 10 years or sooner if they're not responding properly.
Amica has partnered with the American Red Cross Connecticut and Rhode Island Region for Ready 365's Home Fire Preparedness Campaign, with the goal of reducing injuries and deaths from home fires. Red Cross volunteers are working in communities to educate residents about fire safety and fire escape planning, as well as to install smoke alarms free of charge.
Last year, the Red Cross responded to more than 1,000 local disasters in Connecticut and Rhode Island – most of them home fires. Through this campaign, the Red Cross is working proactively to help families be better prepared for the home fires that make up the majority of our local disaster responses.
About Ready 365
Ready 365 Giving Program members are businesses that value the local impact and global reach of the Red Cross; they want to deepen their commitment to our mission; and they are ready to help save lives every day of the year.
About the American Red Cross
The American Red Cross shelters, feeds and provides emotional support to victims of disasters; supplies about 40 percent of the nation's blood; teaches skills that save lives; provides international humanitarian aid; and supports military members and their families. The Red Cross is a not-for-profit organization that depends on volunteers and the generosity of the American public to perform its mission. For more information, please visit redcross.org/ct or visit us on Twitter at @CTRedCross.
About Amica Insurance
Amica Mutual Insurance Co., the nation's oldest mutual insurer of automobiles, was founded in 1907. The company, based in Lincoln, Rhode Island, is a national writer of auto, home, marine and umbrella insurance. Life coverage is available through Amica Life Insurance Company, a wholly owned subsidiary. Amica employs more than 3,400 people in 44 offices across the country. For more information, visit Amica.com.
Media inquiries can be sent to MediaCenter(at)amica(dot)com.
Twitter: Amica
Facebook: Amica Mutual Insurance Co.