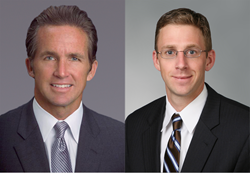 Chicago, IL (PRWEB) October 29, 2015
Heading into the final months of 2015, the U.S. industrial sector remains on track to have another record-setting year for space demand, according to commercial real estate services firm Cushman & Wakefield. The company released its third quarter research findings today, reporting significant absorption and low vacancies, both of which are placing upward pressure on rents in most major industrial hubs.
"The industrial sector posted yet another quarter of staggering demand," said Kevin Thorpe, Cushman & Wakefield chief economist and global head of research. "And this has happened despite softening global demand and a rising dollar, both of which have impacted trade and driven down exports. The core drivers of the industrial sector – e-commerce, auto/manufacturing and consumer spending – actually remain quite robust."
"Healthy industrial fundamentals are still prevalent, overall, and for most markets, the industrial sector continues to perform extremely well," noted John Morris, logistics & industrial services lead, Americas, Cushman & Wakefield. "Net absorption of 57.9 million square feet during the third quarter reflects this strong performance, bringing the year-to-date occupancy gain in industrial properties to 173.1 million square feet."
Additionally, the weighted average U.S. rental rate reached $5.34 triple net in the third quarter, a year-over-year increase of 4.8 percent. The report notes that approximately 70 percent of all markets are experiencing positive rental growth, and 45 percent have seen year-over-year growth above 5 percent, with double-digit gains in 14 markets.
Availabilities also continue to tighten, with vacancies under 6.0 percent reported in 25 markets, including the East Bay in Northern California, Greater Los Angeles, Houston and Philadelphia. Vacancies this low effectively represent a market that is fully utilized.
"The nationwide average vacancy of 7.4 percent clearly reflects the fact that market-level supply pipelines, though growing, are still below the pace of demand in most markets," said Thorpe. "Secondary markets have seen an increase in development, but activity in primary markets, particularly distribution center hubs, has been stronger."
At the end of the third quarter, construction activity totaled 182.3 million square feet across the U.S. Atlanta, Chicago, Dallas/Fort Worth, Inland Empire, Houston and Pennsylvania's I-81/I-78 Distribution Corridor all have in excess of 10 million square feet in the development pipeline.
"Looking ahead, the economic environment in 2016 should support continued job gains, pushing the unemployment rate down below 5 percent and improving the outlook for the American consumer," said Thorpe. "This bodes well for the industrial sector. As more Americans find work, new home construction and sales of existing homes are vastly improving. A boost in housing typically translates into greater demand for warehouse space to store building materials. Moreover, housing also has a multiplier impact on consumer spending via the wealth effect."
The shift underway toward online shopping will also continue to be a leading demand driver for the industrial sector. Requirements for big-box space are common among e-commerce tenants, but there is also growing demand for smaller- and mid-sized buildings. "Increasing service expectations and the need to access customers are leading e-commerce companies to establish smaller infill fulfilment locations around major population centers," Morris noted.
Demand for Class A logistics product will remain strong and continue to fuel the rapid increase in construction. The need to replace aging stock should also drive a significant volume of new development. "Our forecast is for net absorption to continue to outpace new supply in 2016. However, the demand/supply imbalance is expected to narrow," he concluded.
###
10 Lowest National Industrial Vacancy Rate Markets
CITY 3Q'15 ANNUAL CHANGE*
1. Providence, RI 1.3% -0.9
2. Greater Los Angeles 2.7% -1.1
3. Omaha, NE 2.7% -0.2
4. Orange County, CA 3.0% -0.8
5. Denver, CO 3.6% -0.8
6. East Bay, CA 3.6% -0.9
7. San Francisco
Peninsula, CA 3.9% -0.4
8. Santa Clara County
(San Jose), CA 4.1% -1.5
9. Lakeland, FL 4.1% -0.2
10. Seattle, WA 4.3% -2.1
NATIONAL AVERAGE 7.4% -0.9
*Indicates change in "percentage points" from prior year (not percent).
The successful merger of Cushman & Wakefield and DTZ closed September 1, 2015. The firm now operates under the iconic Cushman & Wakefield brand and has a new visual identity and logo that position the firm for the future and reflect its trusted global legacy and wider history. The new Cushman & Wakefield is led by Chairman & Chief Executive Officer Brett White and Global President Tod Lickerman. The company is majority owned by an investor group led by TPG, PAG, and OTPP.
About Cushman & Wakefield
Cushman & Wakefield is a leading global real estate services firm that helps clients transform the way people work, shop, and live. The firm's 43,000 employees in more than 60 countries provide deep local and global insights that create significant value for occupiers and investors around the world. Cushman & Wakefield is among the largest commercial real estate services firms with revenue of $5 billion across core services of agency leasing, asset services, capital markets, facility services (C&W Services), global occupier services, investment & asset management (DTZ Investors), project & development services, tenant representation, and valuation & advisory. To learn more, visit http://www.cushmanwakefield.com or follow @CushWake on Twitter.