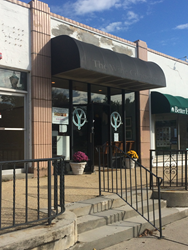 Our mission is to make everybody feel like they practice yoga at any level.
Allenhurst, New Jersey (PRWEB) October 29, 2015
Yogis who frequent the popular studio, Younique Yoga can soon roll out their mats at a new location coming to Highlands, New Jersey next month. Amanda Feinstein, Manager of two of the seven currently operating locations, confirms the opening and provides insight of what members can expect from the exercise classes.
As a former student of Younique Yoga, Feinstein has been a manager and instructor of the yoga studios in Allenhurst, Belmar and soon-to-be Highlands locations for three and a half years, working under owner, John Harin. "I participated in teacher training at one of our studios up north in 2012 to get my certification so I knew John very well," said Feinstein. "I joked with John about opening one in Allenhurst and I would run it for him and he said 'okay.' It all happened really quickly." Harin also has venues in Cedar Grove, West Caldwell, Denville, Roxbury, and Hackettstown.
Specializing in Hot Vinyasa Yoga, the organization also offers restorative yoga, teacher training, community classes, kids groups, and various workshops. " We once had a graduating teacher training group conduct a class in the Asbury Park Carousel and asked all yogis for a donation towards the Asbury Park Beach Restoration," said Feinstein. "Everyone really enjoyed it." The style of yoga offered at Younique Yoga aims to benefit its students in the mind, body and spirit by making members feel as comfortable as possible in a judgement free environment. "We have a comment board in the back of the studio where members can give us their thoughts on their experiences in the class," said Feinstein. "These classes make people feel strong, confident and themselves. They make me feel that we're really doing something good for someone else."
As many classes are reaching their full capacity at each of the seven locations (maximum 36 yogis in a group), Feinstein hopes the new site will attract even more yoga gurus to attend the 75 minute sessions. "We wanted it to be far enough away from Allenhurst and this location was a good fit," said Feinstein. "We're excited to open in the Highlands because there is nothing there at all." Class times vary every day to accommodate all members, with peak hours in the early morning. "We try not to go too far south where people aren't around all year long," said Feinstein. "Quiet, beachy, fishermen's town; definitely a risk but I think it will be good."
One of the main focuses of each studio is finding the best instructors. Many come from within the organization itself, groomed from within theYounique Yoga teacher training program. "We usually hire our instructors from within," said Feinstein. Teacher training is a 200 hour course to prepare students to become professional yoga instructors. Meetings take place three times a year in the Fall, Spring and Summer seasons. Interested trainees are encouraged to contact Amanda Feinstein at afein101@gmail.com.
As for opening a studio of her own one day, the prior Marketing Specialist has no aspirations to do so anytime soon. "I'm really happy being where I am," said Feinstein. "John and I work really well as a team. Teacher training is my bread and butter right now."
Younique Yoga is open seven days a week for members and drop-ins; prices vary at each location. Classes start as early as 7:00 am and as late as 8:00 pm. "Our mission is to make everybody feel like they practice yoga at any level," said Feinstein. "It is part of the instructor's job to make their students feel comfortable. Everyone is welcome, we're all equal, and that's it." For more information on rates and specials, visit their website at http://www.youniqueyoganj.com/home.html or call 973.433.0562.
About Bielat Santore & Company
Bielat Santore & Company is an established commercial real estate firm. The company's expertise lies chiefly within the restaurant and hospitality industry, specializing in the sale of restaurants and other food and beverage real estate businesses. Since 1978, the principals of Bielat Santore & Company, Barry Bielat and Richard Santore, have sold more restaurants and similar type properties in New Jersey than any other real estate company. Furthermore, the firm has secured in excess of $500,000,000 in financing to facilitate these transactions. Visit the company's website, http://www.123bsc.com for the latest in new listings, property searches, available land, market data, financing trends, RSS feeds, press releases and more.