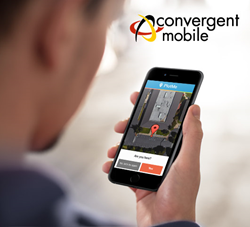 PlotMe now enables the easy addition and validation of GPS coordinates to local business listing data.
Sonoma, CA (PRWEB) November 02, 2015
LBL Pro V2.0 is the latest release of Convergent Mobile's business listing and data management system. The new version continues to provide a highly refined repository for storage and syndication of business location data while significantly extending administrative functionality, performance reporting and provides location coordinate verification.
"The new administrative enhancements will allow enterprise brands and agencies to achieve efficiencies in creating, managing and distributing business data not previously available," stated Mickey Breen, CEO. "The insights into the management of updates, distributions, verifications and the downstream impact have never been this detailed."
The newest feature, PlotMe, will enable local businesses to identify map coordinates of their business entrances in a web app that can be accessed via their cell phone. The coordinates captured will be verified and included in the distribution and syndication of their business data. Richard Sloop, CDO stated, "This is particularly important to business locations that have struggled with resolving differences between an actual business entrance and a mailing address. It also assists those seasonal businesses utilizing kiosks, such as tax preparers whose locations may vary slightly year to year."
Additionally, LBL Pro can now also be provisioned as a stand-alone tool for enterprise brands or agencies that would prefer to manage the distribution of their own data.
"This means that agencies and national brands are no longer captive to data listing vendors for data distribution and syndication. If they prefer to have their own direct relationships with search engines, online directories or data aggregators, they now can have access to a tool to manage that data and those relationships directly," said Sloop.
The LBL Pro system is now available to current enterprise level customers, associations and agencies. New deployments will begin November 1st. For more information on any of Convergent Mobile's products, please email info(at)convergentmobile.com.
About Convergent Mobile:
Founded in 2007, Convergent Mobile is headquartered in Sonoma, California with offices in Washington, DC & Kansas City, MO. Convergent Mobile offers enterprise level mobile-based solutions that any corporate client, franchise group or ad agency can utilize. Convergent Mobile owns and operates the technology offered for their SMS-based marketing & operations platform, listing management and online scheduling systems. For more information, visit http://www.convergentmobile.com.