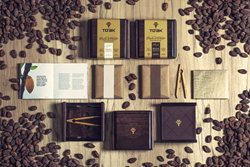 New York City, NY (PRWEB) October 30, 2015
As Halloween trick-or-treating gets underway this week, one lucky New Yorker got quite a surprise. 2Beans, a premium chocolate store on Park Avenue, set out a trick-or-treat basket for its customers. One of the goodies in the basket was a $300 bar of Ecuadorian dark chocolate called To'ak (pronounced Toe-Ahk).
To'ak Chocolate is sourced from the rare Ecuadorian cacao variety called "Nacional," which traces its genetic lineage back at least 5,300 years, to the earliest known cacao trees domesticated by humanity. In 1916, an outbreak of Witches' Broom disease decimated the variety. Today, genetically pure Nacional is on the brink of extinction.
To'ak only produced 500 bars this year. Each bar (50 grams) is presented in a handcrafted Spanish Elm wood box that is individually engraved with the bar number. The box includes tasting utensils and a 116-page booklet that tells the story behind the sourcing of To'ak's cacao beans and provides a guide to dark chocolate tasting, which is analogous to wine tasting.
Ten percent of profits go to a group of 14 cacao growers in the valley of Piedra de Plata, who have formed a partnership with To'ak. Piedra de Plata is blessed with cacao trees that in some cases are over 100 years old, pre-dating the Witches' Broom scourge of 1916. Sourced exclusively from Piedra de Plata, To'ak hand-selects cacao that matches the morphological and color profile of heirloom Nacional referenced from DNA testing.
To'ak can be purchased online at http://www.toakchocolate.com and at five select retailers in the country. 2Beans (http://www.2beans.com) is the first store in the U.S. to release To'ak's 2015 Edition to the public. The retail price is $299 per bar.
The lucky man who grabbed the box of To'ak from the trick-or-treat basket is a long-time dark chocolate enthusiast. When asked what he plans to do with it, he said that he'll organize a chocolate tasting party at his home with friends this weekend. To'ak co-founder Jerry Toth points out that each bar is meant to be shared among four to six people, preferably paired with Hennessy X.O. cognac (http://www.hennessy.com) or certain aged whiskies, such as Aberlour 18yr.