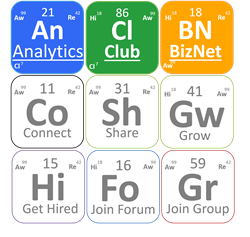 ACBN provides us with a great opportunity to connect with our existing business partners to build platforms that empowers our data science community. - Vishal Kumar
Boston, MA (PRWEB) October 29, 2015
AnalyticsWeek's Analytics.Club has crossed an important internal milestone of rolling out it's 40th chapter around the world with thriving and one of the fastest growing data analytics community. Besides placing community building best practices in action by helping other meetup's use Analytics.Club resources, Analytics.Club is rolling out initiative to invite current and new business partners to join Analytics.Club Business Network.
Analytics.Club Business Network (ACBN) is meant to increase exposure of cutting edge and innovative solution providers within Analytics.Club community and partner community network. Analytics.Club will work with current business on a low fee annual subscription basis. The annual subscription will guarantee partner businesses 15min / month slot to discuss businesses current challenges and help stitch programs to help them succeed using the power of Analytics.Club's hyper connected communities. With tiered participation levels, ACBN will help business partners to expand their outreach within a city, country or globe. ACBN subscription basic levels are created to help Analytics.Club team and partner businesses build a formal agreement to stay engaged throughout the year and work with Analytics.Club to organize programs that benefits the participating businesses.
About ACBN:
Analytics.Club Business Network(ACBN) is a low cost solution to ensure enterprise businesses take benefit of Analytics.Club platform to enjoy additional brand awareness programs and other creative ways to build prospects, facilitate dialog and engage community. All the proceeds from the membership will be towards maintaining the community and empowering Analytics.Club to invest in areas that will help local talent transition from data analytics hopeful to data analytics expert. As per Vishal Kumar, President/CEO AnalyticsWeek "ACBN provides us with a great opportunity to connect with our existing business partners to build platforms that empowers our data science community. It also helps us in taking our partnership with our partner friends to next level by creating an opportunity to have an open dialog that helps us understand their immediate problems in data science .
About Analytics.Club:
Analytics.Club is data science professional's empowerment network that helps data science professionals attain knowledge, network and partner to face tomorrow's challenges today. Analytics.Club primarily comprises of online platform and offline programs that helps data science professionals stay connected, educated and exposed to great opportunities that exist in the data science community today.
About AnalyticsWeek
AnalyticsWeek is a community of 150+ businesses and 20000+ data science professionals. In support of their mission of bringing "Analytics to the 99%," AnalyticsWeek works with their community members and businesses partners to roll out initiatives to bridge the talent-capability divide.