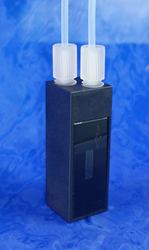 Brooklyn, NY (PRWEB) November 02, 2015
FireflySci has been at the forefront of many advancements and discoveries in the spectroscopy and flow cytometry industries. One of their biggest contributions has been their NIST spectrophotometer calibration standards that never require recalibration. Now coming this November 2015, FireflySci is proud to release a full line of quartz UV cells that will revolutionize the drug and medicine industry.
There are many different methods of performing tablet dissolution. There are seven different apparatuses for this type of research work. The one that FireflySci has focused in on is UV dissolution which is performed with a high grade spectrophotometer, such as the Agilent Cary 8454 UV-VIS diode array.
The UV cell that has recently been launched by FFS is Type 601. This new cuvette is the latest addition to their Type 600 series product line. The Type 600 series are cuvettes that are made from the highest grade black and clear quartz. The cells have M6 threaded connectors on the top of the UV cell along with 400 mm of PTFE tubing so they can easily be hooked up to pump lines.
The Type 601 UV cell is assembled with thermal fusion. This is the strongest type of bonding for a cuvette. The robust bonding is needed to keep the cuvettes from leaking at high pressure. A UV dissolution system is constantly flowing samples from the preparation chambers to the cuvettes, and then back to the preparation chambers. This process is very intense and only the best quality cuvette can be used.
The Type 600 UV cells come in a wide range of lightpaths to fit every application. Lightpaths start at 1 mm and go all the way up to 10 mm. If a researcher is unable to find a suitable cuvette on the FFS site, they are presented with additional options. Since FireflySci has the ability to custom manufacture these cells, a researcher can order a uv cell made to their specific lightpaths and dimensions.
When working in the pharmaceutical industry it is critical to ensure that there are reliable checks and balances in place to ensure the best quality control. A good workflow demands that a lab has the best instruments on hand at all times. By using one of the FireflySci Type 600 cells, a researcher will have peace of mind that their reproducibility and productivity will be at its maximum.
For more information visit http://www.fireflysci.com.