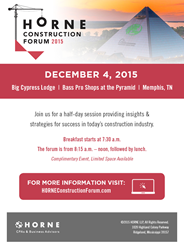 Memphis, Tenn. (PRWEB) October 29, 2015
HORNE LLP will host the annual HORNE Construction Forum 2015 on December 4, 2015, in Memphis, Tennessee. The forum, a complimentary event, will focus on building opportunity in 2016 by providing insights, strategies and education around the future of the construction industry.
The forum will be held at the Big Cypress Lodge, Bass Pro Shops at the Pyramid starting with breakfast at 7:30 a.m. until noon, followed by lunch.
The HORNE Construction Forum 2015 will address critical issues facing the construction industry while educating attendees on recent tax law changes, how the 2016 elections will affect federal tax policies, how to take advantage of tax credits, succession planning, effects of the affordable care act, cybersecurity, internal controls and opportunity through community involvement and renewal.
Guest speakers include Brett Grinder, vice president LEED AP at Grinder, Taber & Grinder; Sonny Grover, executive vice president at alliantgroup; Michael Hooks, Jr., owner and chief project manager at Allworld Project Management; Linda McCluskey, managing director of energy credits and incentives at alliantgroup; Tony Pellicciotti, principal at Looney Ricks Kiss; and McLean Wilson, principal at Kemmons Wilson.
To register for the forum or for more information, visit HORNEConstructionForum.com.
HORNE is a decidedly different CPA and business advisory firm that is changing expectations about accounting. HORNE goes beyond traditional accounting to steer clients through uncertainties and opportunities. We focus our knowledge and experience in banking, construction, franchise, government, healthcare and public and middle market. HORNE Wealth Advisors is a fiduciary partner to high-net worth individuals. Visit us at hornellp.com.
###