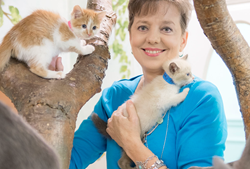 "We wanted to create a place just for cats; where their special needs could be met. We are so excited to be awarded the Gold Status CFP." -Karen Fling, DVM
Dallas, Texas (PRWEB) October 30, 2015
Karen Fling, DVM, owner of East Lake Veterinary Hospital and president of East Lake Pet Orphanage, announced the East Lake Cat Care Center has been approved by the American Association of Feline Practitioners (AAFP) as a Cat Friendly Practice (CFP) at the Gold Status level.
Karen Fling, DVM, opened the East Lake Cat Care Center in November 2013. "We wanted to create a place just for cats; where their special needs could be met. We are so excited to be awarded the Gold Status CFP. We have worked very hard to create a facility that is entirely focused on cats, and we're grateful to be recognized by this prestigious group of Veterinarians and Practices.
"The East Lake Cat Care Center is a stand-alone facility built to cater to everything 'cat.' From comprehensive medical care to our 'home away from home' bedroom lodging suites."
For more information visit http://www.eastlakecatcarecenter.com
About the AAFP
The American Association of Feline Practitioners (AAFP) is a professional organization representing feline practitioners who are passionate about the care of cats. The AAFP is dedicated to advancing the field of feline medicine and surgery by setting the standards of feline care through the publication of practice guidelines, position statements, and by providing continuing education.
Through publications, education, and thriving relationships with other organizations, the AAFP engages the veterinary community and its members by facilitating the exchange of scientific data and ideas.
For more information visit http://www.catvets.com
# # #